Dillon Real Estate Information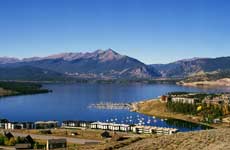 Incorporated in 1883, the quaint Town of Dillon began as a trading post and stage stop. Since then the Town of Dillon has moved three times. Originally it was moved to be closer to the railroad; it was then moved between the Blue, the Ten Mile, and the Snake Rivers. In 1956 the Denver Water Board demanded the residents of Dillon sell their properties and evacuate from town by 1961 because the board planned to flood the town and build a reservoir. The third and final move took the Town of Dillon from where Lake Dillon is currently located to its final spot. The Town today remains along the shores of the reservoir, where residents and visitors alike love it for its stunning lake and mountain views.
Dillon is 79 miles west of Denver and is the home to approximately 2,800 full-time residents which grows to a population of 5,200 during peak season. When our other Summit County towns bustle with winter activity, Dillon slows down. But, as the reservoir melts in early spring, Dillon's energy begins to explode. The quiet town transforms and warms up with free concerts and farmers markets, and the lakefront comes alive with outdoor excitement.
The Dillon Marina and the Tiki bar are popular spots among local sailors and paddlers. And if you don't have your own water craft, you can rent them right at the marina. I recommend spending an afternoon with family or friends on a pontoon boat absorbing the 25 miles of picturesque shoreline.
Dillon provides an unrivaled scenic backdrop and an abundance of summer activities. Whether you're relaxing on the lawn at the open air Lake Dillon Amphitheater or enjoying the endless outdoor fun, you will be sure to have an unforgettable experience.
For more information on Dillon real estate contact Kelli today!