2012 Summit County Real Estate Sales Statistics
Once Again, RE/MAX Leads Summit County Realtors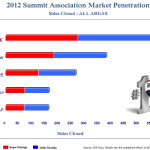 In 2012, RE/MAX of the Summit outsold every other real estate agency in the county with nearly 600 buyer and seller closings out of a total of 1,927 for the year.
Summit County home buyers and home sellers rely on us to provide personalized service, along with the most advanced real estate marketing techniques, in order to make the process as stress-free as possible.
Buying or Selling in Summit County:
the Prices are Right!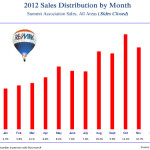 October 2012 was the strongest month for Summit County home sales, with nearly 500 units sold.
November, August, September and December were not far behind. This graph indicates closed sales.
2012 Average Price Per Sale in Summit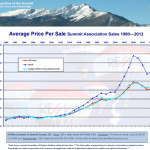 The average price per sale in Breck in 2012 was $600,000; the average price per sale for all of Summit County Real Estate in 2012 was slightly over $400,000. Breckenridge real estate continues to attract the majority of home buyers in Summit County.
I attribute this not only to our great skiing, but our four seasons of fun and terrific year-round calendar of events.
2012 vs. 2011 Real Estate Comparison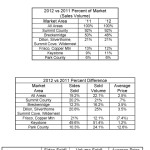 While the average price of homes for sale in SummitCounty rose only slightly (.7%) from the previous year, 48% of the sales volume was concentrated in Breckenridge. The average price per sale for all of Summit and Park counties in 2012 was $415,327 vs. $405,227 in 2011: an increase of 3.5%. (insert market summary comparison)
2013 promises to be another strong year for Breckenridge real estate. Here at the Kelli Sells Team of RE/MAX of the Summit, we are ready to help you buy or sell.  If you are interested in buying or selling a home in Breckenridge, or anywhere in SummitCounty in 2013, please call me at (970) 390-9311 or (970) 453-7000 today.