Creative Cabinetry in Breckenridge
Every home is different. That's what makes each property so interesting. But one thing that can make a place stand out from the rest is its cabinetry. Whether in the kitchen or the bathroom, cabinets contribute to a home's unique personality. In addition, distinctive cabinetry may make all the difference in selling homes to prospective buyers.
As a realtor, I've always been intrigued by the importance of kitchens and bathrooms when marketing a home in Summit County. So I reached out to David Preaus, who co-owns Creative Cabinetry with his partner Trip Butler. David explained that their Breckenridge-based business truly comes from a love of cabinetry design.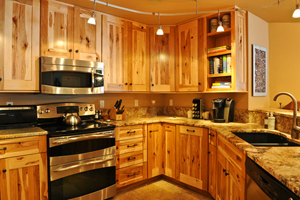 "Growing up in New Orleans, I literally grew up in my mother's and grandmother's kitchen so I have always known what I wanted in a kitchen," he told me. "My business partner, on the other hand, had a degree in architecture from the University of Virginia and was a General Contractor so he knows what can go into a kitchen or bath."
Furthermore, David feels their company is set up to help homeowners and potential second homeowners obtain their dream kitchen or bathroom.
"We are here to be your feet on the ground and eyes on the site. We manage the process from concept to completion and use our expertise and knowledge to help our clients find the right product and design to accomplish their design and financial needs."
David also added that both he and Trip work closely with homeowners to help them make the best design decisions for their particular property.
"We are able to provide renderings to help individuals visualize the potential of their spaces. We are here for the long haul and will be here to help new homeowners for years to come."
If you'd like to learn more about what David and Trip could offer your home, check out the Creative Cabinetry website. You'll surely be impressed with their work!
Want to Move to Summit County?
Creative Cabinetry is just one of many fabulous small businesses that are here in Summit County. If you'd like additional facts about the local companies you can find in this awesome area, I'm happy to give you whatever information you need.
I'm also available to help you buy or sell a home in Summit County. Whatever your real estate needs happen to be now or in the future, I can help you through the process from beginning to end.
Whenever you have a chance, take a moment to check out the available listings on my website. You might see a property that could really meet the needs of you and your family.
Feel free to contact me at your convenience. You can send me an email at [email protected] or call my office lines. I look forward to hearing from you!