Gorgeous 3-Bedroom Home in Frisco
Beauty and elegance make this 3-bedroom home in Frisco a lovely find. Every room has scenic views with well-designed spaces to accommodate family and friends.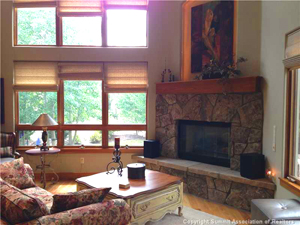 So there are plenty of opportunities for privacy and you'll have enough room for any kind of gathering as well.
The kitchen has gorgeous, marble countertops, stainless steel appliances and lots of space to prepare every kind of meal imaginable.
Plus, the bedrooms are cozy without feeling crowded. They're also equipped with large windows so you can fully appreciate the surrounding mountains, colorful perennials and tall pines just outside your home.
Whether you're looking for quiet peacefulness in a natural setting or access to Frisco's shops and restaurants, this property has so much to offer.
Life in Frisco
Frisco is a very appealing area, especially for second homeowners. Located within driving distance of Denver, Colorado Springs and other Front Range locations, Frisco happens to be a great destination for weekend getaways.
Furthermore, Frisco has reasonably priced lake, mountain and ski properties that are hard to resist. Residents can enjoy beautiful views and participate in a wide variety of outdoor sports while also taking advantage of the unique businesses located within the town.
It's no wonder that Frisco is so popular. With its stunning, affordable homes and active community, Frisco has something for just about everyone. 
Want More Information?
If you'd like to know more about Frisco, I'm happy to provide you with further information on any of your areas of interest.
Also, if you want to visit the Frisco house profiled in this blog, just let me know. I can arrange a tour on your schedule.
Please be aware that I'm available to help you view other Summit County properties, too. Feel free to check out my website for updated listings of different types of homes that are currently on the market. Or tell me what kind of property you're looking for and I can research homes in Summit County that meet your needs.
In addition, you may want to check out my Kelli Sells Blog for other information on buying homes in Summit County. I always make sure to keep my blog up-to-date so that you have the latest information on all of the real estate trends in this area.
Remember that you can contact me at your convenience any time. Just send me an email at [email protected] or call my office lines. I would love to be of assistance and help you find a home in Summit County that's right for you.