Resort Sitters in Summit County
As a Realtor, I know the towns of Summit County very well. One thing I can say about all of them is that they are very family-oriented. Just look at a local calendar and you'll see a large majority of these events focus on things people can do with their kids.
I really love this aspect of Summit County. It shows how caring we are as a community.
But there are days when couples need some alone time. I can understand this very logical desire. So in this month's company profile, I want to introduce you to a business that specializes in professional babysitting.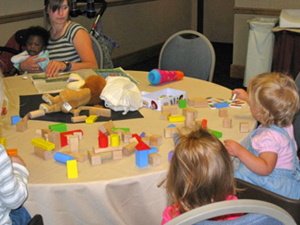 The company is called Resort Sitters and it covers Summit County's surrounding communities.
I spoke with Rob Dollars, who owns Resort Sitters with his wife Tracy. He told me all about the services their company offers.
"We provide babysitters for visitors, second-home owners and some locals," he explained. "We also provide child care for groups and events, including weddings, holiday parties, corporate and military family retreats and similar occasions."
In addition to babysitting at a wide variety of events, Resort Sitters is able to care for more than just young children.
"We have also provided caretakers and companions for teens, adults and seniors with special needs," Rob added.
It's important to note that the sitters Rob and Tracy hire are qualified to watch over people of all ages. They're experienced and have proven themselves previously in other caretaking roles.
"We have a multi-step interview and qualification process, including a very extensive identity and background check," Rob said. "All of our sitters are at least 21 years old. Some services work with teens. We don't. The threshold requirements to interview with us include CPR training, years of babysitting experience and at least 3 child care specific references."
Rob and Tracy definitely make sure the people Resort Sitters looks after are always in good hands.
If you're interested in finding out more about this local business, check out the Resort Sitters website. Maybe you can then schedule a few hours for yourself in the near future!
Want to Move to Summit County?
Resort Sitters is one of many fantastic small businesses located in Summit County. If you'd like more information about the companies you can find in this awesome area, feel free to contact me.
You might also enjoy reading about other local businesses that thrive here. So check out my Kelli Sells Blog for past profiles. You'll see the wealth of amazing enterprises that are owned and operated by Summit County residents.
Please know that I'm also happy to help you buy or sell a home in Summit County. Whatever your real estate needs happen to be now or in the future, I can assist you through the process from beginning to end.
If you have a chance, take a moment to check out the available listings on my website. You might see a property that's perfect for you and your family.
Feel free to contact me at your convenience. You can send me an email at [email protected] or call my office lines. I look forward to hearing from you!