Spectacular 5-Bedroom Townhome in Silverthorne
Are you in search of a new home that combines mountain living with a luxurious feel? Then this 5-bedroom townhouse in Silverthorne is the perfect property for you!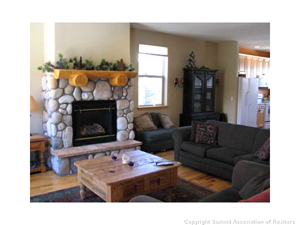 Designed with 2 gas fireplaces (1 located in the master bedroom), a jetted tub, wood floors and mountain style furnishings, this gorgeous, newly painted townhome has so much to offer.
In addition, the home's open floor plan and 2-car garage provide plenty of room for you, your family and any guests. Plus, you can enjoy amazing, mountain views from the deck of this spacious townhouse whenever you wish.
Whether you're looking for a year-round home or a weekend getaway, this lovely townhouse will definitely fulfill your needs.
Life in Silverthorne
When you live in Silverthorne, you have access to 4 first-rate ski resorts. Furthermore, Silverthorne is a great place to go fly fishing, golfing and shopping. These fantastic activities make Silverthorne a very appealing town in Summit County.
Although there are many outdoor sports to be enjoyed in Silverthorne, this town is best known for its wide array of shops. The Silverthorne Outlet Stores has more than 70 brand name stores to choose from for residents and tourists alike.
Also, the Silverthorne Recreation Center has lots of things to do for people of all ages. Members and guests can participate in many different kinds of activities such as water aerobics and cycling. Relaxing massages and hot tub soaks are also available at the Center.
By moving to Silverthorne, you'll become part of a close-knit community where you can always find entertaining events for you and your family throughout the year. 
Want More Information?
If you'd like to know more about Silverthorne, I'm happy to provide you with further information on any of your areas of interest.
Also, if you want to visit the Silverthorne townhouse profiled in this blog, just let me know. I can arrange a tour on your schedule.
Please be aware that I'm available to help you view other Summit County properties, too. Feel free to check out my website for updated listings of different types of homes that are currently on the market. Or tell me what kind of property you're looking for and I can research homes in Summit County that meet your needs.
In addition, you may want to check out my Kelli Sells Blog for other information on buying or selling homes in Summit County. I always make sure to keep my blog up-to-date so that you have the latest information on all of the real estate trends in this area.
Remember that you can contact me at your convenience any time. Just send me an email at [email protected] or call my office lines. I would love to be of assistance and help you find a home in Summit County that's right for you.