Breckenridge Properties: Featured Property
Imagine how much fun life in Breckenridge could be when you own this 5-bedroom beauty. That's why this home is the featured property for July. It's a real treasure!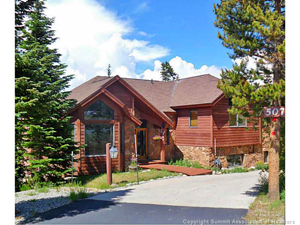 In this home, you'll experience magnificent, mountain views any time of year from the gorgeous deck. This house also offers a flexible floor plan so you can shape the space in whatever way suits you and your family best. If a relative ever needs to stay with you for the long term, this lovely home can include a private suite with its own kitchen, too.
Also, the property offers plenty of room for multiple vehicles with its 4-car garage. Whether you have a large family or you entertain on a frequent basis, this amazing home has lots of space for everyone!
On top of everything else, you're just steps away from all the excitement Breckenridge has to offer. Cross country, hiking and pedestrian trails are close by. You can also walk to downtown Breckenridge to experience the great shops and restaurants whenever you wish.
With so many wonderful perks, there will be plenty of places for kids and grandkids to play. I think it's really one of the best properties in Breckenridge right now.
If you're looking to buy a vacation rental or you want a family getaway, you'll certainly be pleased with this 5-bedroom house. In fact, it may even be the perfect dream home for you! 
Want More Info on This Breckenridge Property?
As you can see, this Breckenridge property has plenty of amazing features. If you'd like to see the home in person, just let me know. I can arrange a visit whenever you're ready. Give me a call and I'll schedule a time that works around your schedule.
Also, if you want to view other properties in Breckenridge or throughout Summit County, I'm happy to put together some properties that might meet your needs. You're always welcome to look through the updated listings on my website any time as well. When you're ready to discuss your options or prepare for showings, contact me at any time via email ([email protected]) or on my office line. I look forward to working with you to find your perfect home.