The Dog House in Breckenridge
Summit County is a great place to live. With its community feel, gorgeous landscape, fun outdoor activities and lovely, affordable houses, so many people are proud to call this area home. Now I can tell you it's also a wonderful place for dogs.
I recently came across a very caring business in Breckenridge called The Dog House. From grooming and overnight boarding to doggie daycare, it has quite a bit to offer your pet.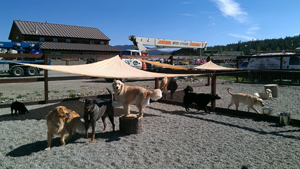 I was so impressed that I contacted the business to get more information. Rebecca Bean, who co-owns the facility with her husband Brent, was very responsive and told me all about their extensive services.
She described what makes The Dog House a special place for both canine residents and guests of Summit County all year round.
"We offer a very personalized experience for our customers and their dogs," Rebecca explained. "We will always try to accommodate any situation and any dog, if possible, and any accommodations are included in our pricing. We have a care for the dog that is second to none in Summit County."
It's pretty clear that every dog's needs are a top priority to Rebecca and Brent. Just reading through their website shows their compassion and attention to detail when it comes to Summit County dogs.
In addition to their current services, Rebecca let me know they also plan to bring dog training into the mix, too. So this doggie home away from home will soon have a new amenity to distinguish it from the rest.
"People need to know that there is a reliable, loving place to leave their dogs, whether they stay up here for vacation or if they live here and need to travel away from Summit County," Rebecca went on to say. "Or if they just have an active dog who could use some socialization practice with other dogs, or just a fun day to play."
In addition to the variety of services they offer the community, Rebecca and Brent are also members of the Breckenridge Chamber of Commerce and have donated many gift certificates to local charity events.
If you're interested in learning more, check out the website for The Dog House. You'll definitely find out a lot of useful information and maybe even book a stay for your pet family member, too! 
Want to Move to Summit County? 
The Dog House is just one of many fabulous small businesses that are located here in Summit County. If you'd like additional facts about what you can find in this awesome area, I'm happy to give you whatever information you need.
You can also take a look at my other blogs that feature fantastic, locally-owned businesses here. These companies may provide just the kind of services you'd like to find near you.
Furthermore, I'm available to help you buy or sell a home in Summit County. Whatever your real estate needs happen to be now or in the future, I can help you through the process from beginning to end.
Feel free to contact me at your convenience. You can send me an email at [email protected] or call my office lines. I look forward to hearing from you!