Welcoming Condo in Keystone, Colorado
A beautiful 2-bedroom corner property filled with light and gorgeous views is ready for you in Keystone. Not only can you look out onto the scenic ski area right from this spacious home, but you'll have top of the line finishes, amenities and an ideal location to call home.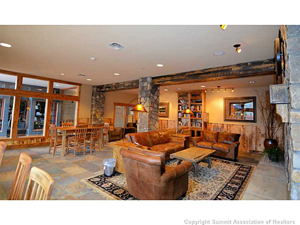 Just steps away from the mountain, this condo has tons of windows and is flooded with natural light. The layout is open so you can take advantage of a lot of extra space. In fact, you're able to sleep 6 people quite easily here. So whether you have a large family or like having plenty of company, this condo has enough room to accommodate your relatives and friends comfortably.
When you purchase this Keystone condo, the association fees include cable TV, electric, gas, heat, snow removal, trash pickup and water/sewer.
In addition, you have the freedom to relax in the hot tub and sauna or take a dip in the pool. It's a fantastic place to unwind and meet other residents in the process!
Life in Keystone 
The Keystone experience gives you direct access to the mountains. It's perfect for ski enthusiasts. In addition, you can appreciate the stunning landscapes during the day and at night.
Also, Keystone is among the most popular ski resorts in the country. It even has the most technologically advanced snow making system on the entire continent! Plus, Keystone offers wide, well-maintained trails and fun entertainment options for people of all ages.
If the great outdoors is important to you, Keystone is the perfect location. With skiing, ice skating, snowshoeing and snowmobiling in the winter and paddle boating and mountain biking in the summer, you'll always have a lot of fabulous activities to choose from.
Plus, Keystone offers a wide range of shops and restaurants for any kind of budget. Because of all the amazing choices Keystone provides, you'll find this is a town that suits your style in more ways than one! 
Want More Information?
If you'd like to know more about Keystone, I'm happy to provide you with further information on any of your areas of interest.
Also, if you want to visit the Keystone condo profiled in this blog, just let me know. I can arrange a tour on your schedule. Please be aware that I'm available to help you view other Summit County properties, too. Feel free to check out my website for updated listings of different types of homes that are currently on the market. Or let me know what kind of property you're looking for and I can research homes in Summit County that meet your needs.
You can contact me at your convenience any time. Just send me an email at [email protected] or call my office lines. I would love to help you find a home in Summit County that's right for you.