Ambika Therapies in Breckenridge
Life can be stressful. I know that very well as a Realtor. Fortunately, there's a wonderful spa in Breckenridge that knows how to make the tension disappear with high-quality massages and other therapeutic services.
So in this month's local business profile, I want to introduce you to Ambika Therapies. In order to learn more about Ambika's specialties, I spoke with Erica Ragusa, who co-owns this spa with her sister Gina Ragusa.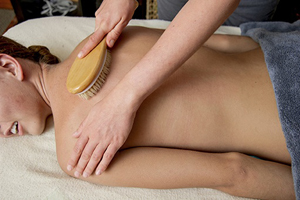 Erica explained that many of Ambika's services puts their spa ahead of the competition.
"We make all of our own products, we are a green spa, and we provide ayurvedic spa treatments. We have been told by many of our clients that we have an intuitive approach to bodywork and simply 'know where to go' with our hands," she told me.
There's a reason Erica and Gina are able to give such great massages. They both studied at New York State and each acquired more than 1,000 hours of education in massage therapy. Plus, they regularly undergo continuing education in reiki and oncology massage, too. So they definitely know what they're doing!
In addition to working at their spa, they also contribute to Summit County in a lot of different ways.
"We have a weekly booth at the Dillon Farmers Market where we get to reach out to our community, offering chair massage and our personal care products," Erica said. "I teach a beginner's yoga class at the Breckenridge Rec Center, which is open to all members. We are involved with the Breckenridge Outdoor Education Center and provide massage and yoga to their special needs groups. We live, work, and play here."
If you're interested in finding out more about all of the spa services Erica and Gina supply their clients, check out the Ambika Therapies website. It could be just what you need to achieve complete relaxation after a stressful day!
Want to Move to Summit County?
Ambika Therapies is one of many terrific small businesses that are in Summit County. If you'd like more information about the local companies you can find in this awesome area, feel free to contact me.
You might also enjoy reading about other local businesses that thrive in this area. So check out my Kelli Sells Blog for past profiles. You'll see the wealth of amazing enterprises that are owned and operated by Summit County residents.
Please know that I'm also happy to help you buy or sell a home in Summit County. Whatever your real estate needs happen to be now or in the future, I can assist you through the process from beginning to end.
If you have a chance, take a moment to check out the available listings on my website. You might see a property that really interests you!
Feel free to contact me at your convenience. You can send me an email at [email protected] or call my office lines. I look forward to helping you find a property that's right for you and your family.