August Events in Summit County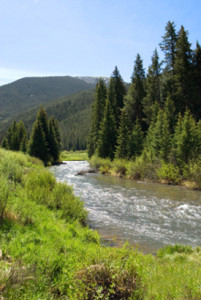 Summer may be winding down, but there are still some great ways to take advantage of the warm weather here in Summit County. You won't want to miss out on the wide range of activities that are available to you throughout the month.
So check out this fun list of events you can explore in August!
Central Mountain Wilderness Hike – Acorn Creek
On August 10th, get a gorgeous view of an amazing wildlife habitat at Acorn Creek.  You'll learn all about the wilderness in this part of the mountains as you hike north of Silverthorne. The hike is designated as moderate to strenuous so be prepared for a 5 to 10 mile trek. But you'll think of the wilderness in a whole new light after this beautiful hike!
Historic Walking Tour
Do you enjoy local history? Is walking a favorite pastime? Then this is the perfect event for you! Take a tour of Breckenridge from a historical perspective and learn about the people who lived in this town more than 100 years ago. This walk starts at 11:00am on August 13th and no reservation is required.
Breck Bike Week
From August 15th through August 18th, you're invited to enjoy the 5th Annual Bicycle Festival in Breckenridge. Whether you're a first-time bike rider or a pro, this fest has something for all levels! Find out about all the bike paths, trails and roads that make Breckenridge such a bike-friendly town.
Dillon, Denver and the Dam: Walking Tour
The Summit County Historical Society has been providing a summer talk and tour program all season at the Old Dillon Schoolhouse Museum in Dillon. There's still time for you to experience this unique presentation, hosted by Sandra Mather, author of "Dillon, Denver, and the Dam." Join her on August 22nd at 10:00am for her historical talk. She'll then lead you on a walking tour to see the buildings that have been moved from old Dillon.
Summit Trail Running Series Race #6
Run wild at the 12th Summit Trail Running Series! With 6 races to choose from, both short and long, runners of all ages and abilities are welcome to participate. Please note that runners have to be at least 10 years old to take part in these races.  Come to the Breckenridge Recreation Center on August 28th at 5:45pm for an evening of running fun!
Want to Know More August Events?
These activities are just a handful of the fantastic things you can do in August. If you'd like other suggestions, I'd be happy to tell you about other events happening around Summit County.
Also, I can help you with any real estate questions you may have about the Summit County region. Whether you want to list your current house or you're looking to move into a local community, feel free to contact me at your convenience.
I may also be able to answer some of your real estate concerns with my Kelli Sells Blog. So if you have a moment, check it out. I update it frequently to make sure you're always aware of market news and trends in Summit County.
Please know you can send me an email at [email protected] or call my office lines whenever you wish. I look forward to hearing from you!