Breckenridge Realtor's Business of the Month: Majestic Mountain Movers
When it comes to buying or selling a home, there's an important reality that can't be overlooked. One way or another, you have to move. As a Realtor, I know how nerve-racking it is to prepare to transfer your life into a new location.
Fortunately, I found a moving company that believes in providing superior assistance so that its clients can relax a little. Locally owned and operated in Silverthorne, Majestic Mountain Movers is dedicated to making this experience as stress-free as possible.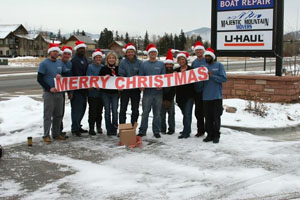 I recently spoke with Rhonda Anderson, who co-owns this business with her husband Tod, and she told me all about the many services Majestic Mountain Movers has to offer.
"We are a full service moving company," she explained. "We have a team of female packers and male movers. We specialize in full packing and moving services and can also provide a range of services from loading a rental truck to packing, moving, receiving, storing and delivery. We often receive shipments from transit companies and then do the deliveries from here."
On the verge of entering its 20th year, Rhonda reflected on how her company has grown.
"We started this business with limited experience and we have certainly developed and improved with the technical aspects of the industry over the years. We've gained a lot of our knowledge from being a member of the American Moving and Storage Association. I would definitely say that it was an evolution from amateur then, to white glove service now."
If you're planning to move in the near future, you might consider giving Rhonda and Tod a call or checking out the Majestic Mountain Movers website. I'm sure they'll do everything they can to make sure your move is a smooth process from beginning to end.
Looking at Homes for Sale in Summit County, Colorado?
Majestic Mountain Movers is just one of many fabulous small businesses here in Summit County. If you'd like to learn more about other locally operated companies that serve the area, take a look at some of the many local businesses we've featured on the blog over the past few years. They are part of the reason Summit County is such a wonderful place to live.
If you're looking to move to Summit County, I'm happy to help you buy or sell a home in Summit County. Whatever your real estate needs happen to be now or in the future, I can assist you from start to finish. Start the buying process by looking at the listings on my website. You might see a property that is a perfect move for you.
When you're ready to get in touch, send me an email at [email protected] or call my office line. Just know that I'm always ready to help!