Breckenridge Colorado Real Estate: March Market Update
It's been a long, hard winter, which is great for skiing, but it could also explain the less than stellar numbers for real estate in Breckenridge, Colorado. For March's update, I'm sorry to report that the market is down 16.5 percent in terms of the amount of residential properties that are selling. In addition, the average sold price is has decreased by 5 percent.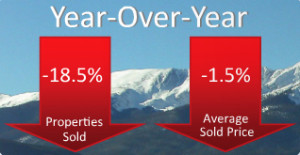 The good news is that the number of properties now under contract is actually up by 14 percent. Of the 188 Summit County properties that are currently under contract, 34 properties are new construction, which are located from Silverthorne to Frisco to Breckenridge.
Here's an interesting fact: if that 14 percent gain in under-contract properties were to close right now, Summit County's year-to-date sales would be up compared to this time last year. That increase would push sales up by 4 percent.
However, since 34 of those homes are new construction, it could take a little while before sales go back up again. Still, we're moving in the right direction and that's what really matters.
One last thing I want to mention is the average sold price for residential property here in Summit County. So far, its $517, 180 with the average ratio of sold price to list price being 95 percent.
While this market update isn't exactly cause for celebration, there are still some positive aspects to keep in mind. As spring approaches, more potential buyers will want to come tour the amazing homes in Breckenridge and throughout Summit County, and who knows where the market will take us? It will be exciting to find out!
Contact Me for More Information
When you're looking to buy or sell a home, the latest market reports are always essential tools in your arsenal. Just remember that real estate in Breckenridge can change quickly so be careful not to draw conclusions based on one market update.
If you'd like to view homes that are for sale in Breckenridge and any other Summit County town, I'm happy to put together some properties that might meet your needs. Feel free to browse through the updated listings on my website as you get ready to talk about the homes that interest you.
Or if you're ready to put your own home on the market, I can help you with that process from start to finish as well.
Whether you're buying or selling real estate in Summit County, contact me at any time via email ([email protected]) or on my office line. I look forward to working with you!