Breckenridge Real Estate Market Update
I have good news to report yet again in our market update for Breckenridge real estate this fall. 'Under Contract' activity is quite impressive. In fact, there is a 26 percent improvement over last year at this very time.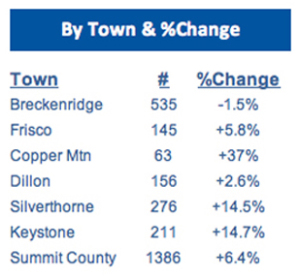 Usually, sales begin to slow down in the autumn season. That's not the case this year! Our under contract activity is showing no signs of coming to a close any time soon. The amount of homes that have been placed under contract is significantly higher than last year's numbers, and this is a cause for celebration!
Furthermore, sales have even gone up a couple of percentage points over the past month. This means that 2014 could very well end on a strong note with a great deal of activity in the Breckenridge real estate market.
Another interesting point to highlight is that the average sold price has gained throughout Summit County. The only exception is Keystone. However, the overall increases are great signs of improvement for the market.
The next couple of months should be quite exciting to watch. I'll definitely be examining the numbers as we reach the end of the year. Make sure to stay tuned for my next market update!
Contact Me For More Information
Any time you're considering whether to buy or sell a home, the latest reports are always an important resource. I tell my clients to check for updates on a regular basis so they always know what's happening in the Breckenridge real estate market.
Just remember that housing prices and trends in Breckenridge can change quickly. Sales figures and 'Under Contract' activity tend to vary on a monthly basis. That's why you should be careful not to draw conclusions based on a single market update. Instead, get in the habit of checking the market on a regular basis. You should make it a priority to get to know the patterns in your area. That will certainly help you become more acquainted with the real estate in your community. Don't hesitate to contact me if you'd like to understand your market better.
Also, if you want to view homes that are for sale in Breckenridge or throughout Summit County, I'm happy to put together some properties that might suit your needs. Feel free to browse through the updated listings on my website at any time, and when you're ready to chat, we can talk about the homes that interest you.
If you're ready to put your own home on the market, I can help you in that process, too. Give me a call so that we can get started right away.