Breckenridge Real Estate Market Update
We have some great news to share just in time for the holidays. It's shaping up to be another very positive month in the Summit County real estate market. Sales are moving up with the exception of a small decline in the Breckenridge real estate market that amounts to -1.6%. However, Silverthorne and Keystone are enjoying double digit sales increases. That means there are a lot of reasons to celebrate!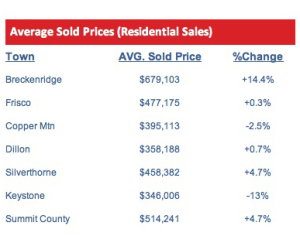 In addition, the average sold price has risen in Summit County for the most part. Although Keystone and Copper have not grown as much in the sold price, Breckenridge  has a double digit improvement in this key area.
The best part is that residential sales have increased countywide by 6.8%. Plus, the pending or under contract properties are notably high for this season. We're talking a more than 35% gain!
There's no question that the Breckenridge real estate market is on its way to good health again. As always, I will be watching the numbers to see how we do for the rest of 2014. These are very exciting developments and a great way to end the year. Keep checking in for more updates!
Contact Me For More Information
Any time you're considering whether to buy or sell a home, the latest reports are always an important resource. I tell my clients to check for updates on a regular basis so they always know what's happening in the real estate market around them.
Just remember that housing in the Breckenridge real estate market can move quickly, and it isn't always predictable. That's why you should be careful not to draw conclusions based on a single market update. Every market has a rhythm. For this reason, you should make it a priority to get to know the patterns in your area. Don't hesitate to contact me if you'd like to understand your market better.
Also, if you'd like to view homes that are for sale in Breckenridge or other Summit County towns, I'm happy to put together a portfolio of properties that might suit your needs, and feel free to browse through the listings on my website as you start your research.
If you're ready to put your own home on the market, I can help you in that process, too. Give me a call so that we can get things started right away. Contact me at any time via email ([email protected]) or on my office line. I look forward to working with you!