Breckenridge Realtor: December Events
It's the holiday season and now is the perfect time to enjoy all of the wonders of Breckenridge! The Breckenridge Realtor team and I have put together a quick snapshot of fun events you and your family can experience throughout the month of December. If you're new to the area, these events are a great way to see just how wonderful it is to be in Summit County for the holidays!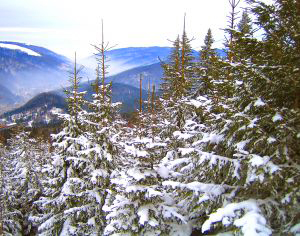 Holiday Market
Looking for the perfect holiday gift? Interested in personally made items? Then the Handmade Holiday Market is the best place for you! On December 6th, you can tour a wide variety of booths at the Breckenridge Arts District. Many artisans will be on hand with their crafts at very reasonable prices.
Musical Comedy
Get out of the cold and into an extraordinary celebration of America culture. Throughout December, let the Lake Dillon Theatre Company take you to decades past for a holiday performance you won't soon forget. It's the 1940s Radio Hour! Check show times and reserve your seat today!
Ugly Sweater Challenge
Do you have an ugly holiday sweater that you've sworn never to wear in public? Now there's a good reason to showcase this embarrassing knitwear. It's the Ugly Sweater Challenge! Proudly put on this fun piece of clothing and experience a holiday obstacle course on Main Street in Frisco. The excitement begins at 4:00pm on December 13th!
Holiday Chocolates
It's a yearly tradition that's too delicious to miss! Come to the Keystone Lodge & Spa on December 19th to view 8,000 pounds of chocolate that's been crafted into a miniature alpine village. You won't believe the detail in this masterpiece! Each year, there's a new addition that will definitely surprise and delight you.
Sing-A-Long
If you enjoy singing all of the songs of "The Sound of Music," then you're in luck! On December 27th at 7 pm, you can enjoy this Julie Andrews classic with subtitles so that the entire audience can sing the many magical tunes. You'll also receive a Magic Moments Fun pack for free! Make sure you reserve your tickets for this singing event at the Breckenridge Riverwalk Center. 
New Year's Eve
Spend your New Year's Eve with the Lake Dillon Theatre Company! Beginning at 6:00pm, you're invited to an intimate party with cabaret performances by New York singer Melanie Beck, a catered dinner, open bar, dancing and more surprises! Make sure to mark your calendar for this exquisite evening of theatrical fun.
Want More December Events?
These are just some of the great events you can enjoy in Breckenridge and around Summit County throughout the month of December. For more ideas, just check back with our blog. The Breckenridge Realtor team and I are always happy to share some of the fun you can experience in and around Breckenridge.
Also, if you're looking to buy or sell a home in Breckenridge, get in touch. We're ready to help from start to finish…even during the holidays. Feel free to start your search by browsing the updated listings on my website, and when you're ready to talk through your options or schedule showings, contact me at any time via email ([email protected]) or on my office line. I look forward to working with you!