New Summit County, Colorado MLS Listing
Beautiful views and a peaceful setting are most definitely in your future with this gorgeous condo for sale in Summit County! Located in one of Silverthorne's most beloved neighborhoods, you'll enjoy great quality of life at Wildernest. That's why I'm very pleased to feature this Summit County MLS listing this month. It's Colorado living at its finest!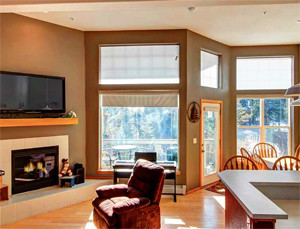 When you move into this condo, you'll have two large bedrooms, two spacious bathrooms and a living/kitchen/dining area with 13-foot ceilings. Plus, I can't forget to mention the lovely wood floors and the beautiful fireplace, which really gives this home a cozy feel.
In addition, you'll have your own carport, access to a great clubhouse with game room and two outdoor tubs. It's so nice to have such wonderful amenities. You can experience privacy whenever you wish or get to know your neighbors in the well-maintained community areas of this terrific development.
Finally, the Summit Stage is close by so you can always take advantage of free transportation to most parts of the county. That's an amazing convenience to have just steps away from home. If you'd rather take a leisurely walk or drink in the natural surroundings, there's a national forest just across the street.
Any way you look at it, this Silverthorne condo is truly a fantastic place to call home for years to come. Whether you're in search of a full-time residence, a vacation getaway or a rental property, you can't go wrong with this amazing condominium. You'll always get a good return on your investment with this spectacular condo in Wildernest. 
Want More Info?
As you can tell, this stunning, Silverthorne home has so many qualities that make it stand out from the rest. If you'd like to tour this property in person, just let me know. I can arrange a visit right away. Give me a call and I'll set up a time that works around your schedule.
Also, if you want to view other homes in this community or throughout Summit County, I'm happy to put together some properties that might meet your needs. You're welcome to look through the updated Summit County MLS listings on my website at time. When you're ready to discuss your options or prepare for showings, contact me at any time via email ([email protected]) or on my office line. I look forward to working with you to find the home of your dreams.