Breckenridge Real Estate Market Update
The New Year is starting off on a very strong note! With inventory low and pending activity high, the Breckenridge real estate market is looking pretty positive.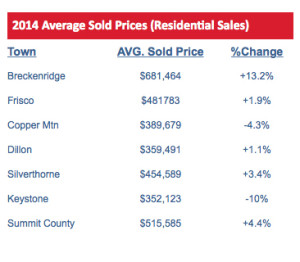 When it comes to home sales in Summit County, the numbers are down. However, the average sold price has gone up. In fact, Breckenridge can take a lot of credit for this improvement because it currently has a 16 percent gain in price. Unfortunately, Keystone is dealing with a 21 percent loss right now.
Looking at the number of closed sales at the end of 2014, the average price has made positive increases in every part of Summit County except for two. Keystone and Copper struggled in this area. All other towns enjoyed a nearly 5 percent improvement. Again, Breckenridge stood out from the pack with its double digit growth.
All in all, 2015 appears to be heading in the right direction. As always, I'm interested to see how the market changes over the coming months. With such a glowing January so far, I think there are going to be very positive milestones to report. I will certainly keep you updated so be sure to check back!
Contact Me For More Information
Any time you're considering whether to buy or sell a home, the latest reports are an essential resource to keep in mind. I tell my clients to look for updates on a regular basis so they always know what's happening in the local real estate market. Just remember that housing in Breckenridge can move quickly. It also tends to change different directions without notice. That's why you should be careful not to draw conclusions based on a single market update. Every market has its own rhythm. For this reason, you should make it a priority to get to know the patterns in your neighborhood. Don't hesitate to contact me if you'd like to understand your market better. I'm always happy to help.
Also, if you'd like to view homes that are for sale in Summit County, you can begin your search by browsing the updated listings on my website. When you're ready to discuss your options or schedule showings, contact me at any time via email ([email protected]) or on my office line. I look forward to working with you!