Breckenridge Real Estate Market Update
Since Breckenridge's real estate continues to be strong, I'd like to do something a little different with this month's real estate market update. Let's take a look at the luxury market in Summit County. It's really quite impressive. The count and final sales prices for residential properties was definitely up in 2014. Interestingly, Summit County enjoyed a wonderful surge in luxury sales during 2014 as well.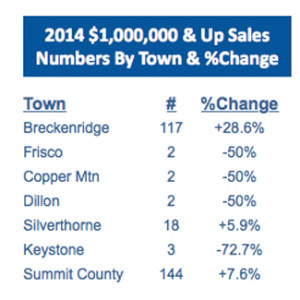 In exact terms, the luxury market brought in 8.5 percent of the 2014 Summit County sales. To illustrate this figure even more clearly, that 8.5 percent is actually 25 percent of the volume of homes sold. Now that's pretty huge. These properties were all worth more than $1 million or more.
Furthermore, the number of home sales at this price point improved 7.6 percent over 2013. More specifically, the sales of homes between the prices of $500,000 and $1 million were up 14.2% and the sales below $500,000 increased by 7.7 percent.
Also, the average sold price for properties valued at more than $1 million rose 6.2 percent, homes between $500,000 and $1 million went up 1.1 percent and those below $500,000 improved by 3.6 percent.
Any way you look at it, these numbers are very positive and worthy of celebration. It's great to see the Breckenridge real estate market flourishing again. As always, I'll be watching sales closely and you can be sure to receive updates as they become available. Keep checking back for the latest!
Contact Me For More Information
Whenever you're considering whether to buy or sell a home, the most recent reports are an essential resource. I tell my clients to look for market updates on a regular basis. Just remember that housing in Breckenridge can change very quickly. It's tricky to draw conclusions based on a single market update. Every market has its own rhythm. For this reason, you should make it a priority to get to know the patterns in your area. Don't hesitate to contact me if you'd like to understand your market better.
Also, if you'd like to view homes for sale in Summit County, I'm happy to put together some properties that might suit your needs. Feel free to browse through the updated listings on my website to get started and when you're ready to talk through your options or schedule showings, contact me at any time via email ([email protected]) or on my office line. I look forward to working with you!