Breckenridge Real Estate Market Update
The good news keeps rolling in from the Breckenridge real estate market. Residential sales are soaring right now. In fact, we're enjoying a 7.5 percent increase over 2014. That's pretty significant. Plus, pending or under contract properties are up a whopping 16.5 percent! It's fantastic to see such positive activity as 2015 moves forward.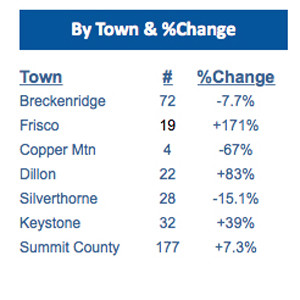 Interestingly, Breckenridge is now the driving force behind the county's luxury market. So far this year, Breckenridge has been the site of 16 luxury sales, which are homes priced over $1 million.
In Summit County the Breckenridge real estate market is also a leader in homes below $1 million at this time. Sales have improved in this price range approximately 20 percent. The north side of the county hasn't had as much success. Its sales for residential real estate below $1 million are down 10.3 percent.
The nice thing is that we're still at the beginning of 2015. This means there's plenty of time for the north part of Summit County to gain ground. I'm always optimistic, especially as we enter one of the most popular real estate seasons of the year. Keep checking back for more updates. I'll always have the latest information ready for you!
Contact Me For More Information
Whether you're considering buying or selling a home, the most recent reports continue to be important resources. I advise my clients to look for updates on a regular basis so that they are aware of what's happening in the real estate market around them.
Real estate in Breckenridge can move quickly and market trends can vary by development and neighborhood as well as by town. That's why you shouldn't draw overall conclusions based on a single market update. Every market has its own rhythm. For this reason, I strongly urge you to get to know the patterns in your area. Don't hesitate to contact me if you'd like to understand your market better. I'm always happy to provide you with guidance and recommendations.
Also, if you'd like to view homes that are for sale in Summit County, I'm happy to put together some properties that might suit your needs. Feel free to browse through the updated listings on my website to get started. When you're ready to talk through your options or schedule showings, contact me at any time via email ([email protected]) or on my office line. I look forward to working with you!