Summit County MLS: March Featured Home
A life of luxury and comfort is definitely within reach when you choose this gorgeous, Summit County home. Located in Breckenridge, the six-bedroom, five-and-a-half bath house has everything you could ever want. With scenic mountain views and an inviting open floor plan, you're bound to enjoy this fantastic property for years and years to come.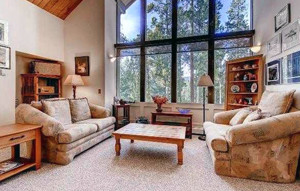 Based on these reasons and so many more, I'm happy to present this MLS listing as our featured home in March.
Let's start with the yard. It's large, sunny, flat and perfect for entertaining friends and family. Plus, this corner lot of nearly an acre provides both beauty and privacy. You'll even have your own storage shed so you will always have a secure place to put your belongings. Speaking of space, don't forget to check out the oversized, two-and-a-half car garage. It's quite impressive!
Moving onto the house itself, you won't be disappointed. Each room is spacious, welcoming and showcases the striking nearby mountains. Picture yourself relaxing in every room, enjoying nature without compromising your privacy in the least.
Finally, this home is in the perfect spot to take in spectacular natural surroundings while also having access to everything Breckenridge has to offer. From fantastic restaurants to the most unique shops along Main Street, adventure awaits as you explore the Rockies.
Any way you look at it, this magnificent home has it all! Whether you want a permanent residence or a vacation getaway, this property could be the right house for you.
Want More Info on this MLS Listing?
As you can tell, this fabulous home for sale in Breckenridge has a long list of terrific qualities that make it amazingly wonderful. However, it's always best to experience a house like this one in person. It has features you'll want to see firsthand. If you'd like to tour this gorgeous property, get in touch. I can arrange a visit at your convenience.
Also, if you want to see other properties in Breckenridge or throughout Summit County, I'm happy to put together some MLS properties that might meet your needs. You're always welcome to start your search with the up-to-date MLS listings on my website, and when you're ready to discuss your options or prepare for showings, contact me at any time via email ([email protected]) or on my office line. I look forward to working with you to find your dream home.