Breckenridge Real Estate Tips: Kitchen Remodeling
Whether you're preparing to put your home on the Breckenridge real estate market or you're just upgrading your home to enjoy it a little more, kitchen remodeling can be an expensive endeavor. The good news is you don't have to spend a fortune to give this essential part of your home a beautiful facelift.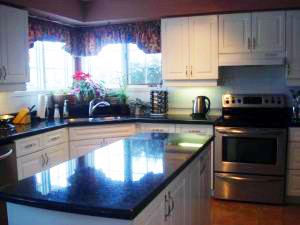 Today I'd like to share some useful tips you can use to make significant renovations to your home without stretching your budget. Read on for some kitchen remodeling hints that I've found useful during my years as a Realtor in Breckenridge.
Cabinets
Putting in new cabinets is an investment, there isn't any way around it. However, you can freshen up this part of your kitchen at a modest cost. Consider dressing up the doors by stripping and refinishing them. You might even decide to paint them a different color. Any of these options are sure to give your cabinets an updated look.
For a more drastic change, why not remove the doors altogether and line the back with wallpaper? Then you can showcase your dinnerware and give your entire kitchen a totally new feel.
Light Fixtures
Even if you have a kitchen with an overall modern look, old light fixtures can detract from the mood you want to create. Luckily, there's a simple fix for this issue. Just install a stylish pendant lamp or add track lighting under your cabinets. You'll be amazed at how these small alterations can improve your entire kitchen.
Flooring
Kitchen floors get a lot of use. It's not uncommon for them to look worn long before some of your other surfaces. If you notice they're not in the best shape, there's still hope. Instead of replacing them, you might just need to refinish the existing floor. Sanding and staining can rejuvenate your floors so they're restored to their original state.
If refinishing isn't an option because they're too worn out, there are plenty of options for hardwoods and laminates these days that bring new wood floors to almost any price range. They even make laminates and veneers that can be refinished!
Drawers
Drawers and cabinets can seem drab or outdates simply because the hardware is out of style. You can fix this problem easily with inexpensive handles that liven up your kitchen space. In fact, you might be amazed at what these accents can do for this essential room. After this simple switch, you may not recognize the room anymore!
Counters
Counters can dramatically change the look of your kitchen, but solid stone countertops are expensive. The good news is there are ways to freshen up your counters without spending a lot of money.
There are kits to replace countertops with personalized tile. Concrete with glass accents is an attractive option these days used by restaurants and homeowners, and there are great laminates on the market as well.
Want More Info?
Kitchens are one of the most important rooms in your home so it makes sense to keep them updated. I hope these tips give you ideas on how you can freshen up your kitchens at a reasonable cost.
If you have questions about home renovations for a house you're thinking of selling, or how much to plan ahead for a renovation on a property you'd like to buy, get in touch. Finding the right home takes experience I've been working in the Breckenridge real estate market for a long time.
You can begin your research by looking through the updated listings on my website, and when you're ready to explore your options or prepare for showings, contact me at any time via email ([email protected]) or on my office line. I look forward to working with you!