Breckenridge Realtor News: April Events
It's the middle of spring and one of the most exciting seasons to enjoy everything Summit County has to offer. Each month the Breckenridge Realtor team and I share our top upcoming activities…we hope you can get out to enjoy a few of them. Read on to find out the great things you and your family may experience throughout the month of April.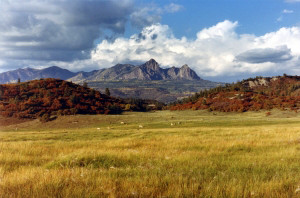 Paint Along
Have you ever wanted to capture the gorgeous landscape around you? Then this is the perfect activity for you! On April 11th at 1:00pm, let Amy Evans show you how to create a memorable painting of Summit County's natural surroundings at this Paint Along. Come to the Breckenridge Arts District for this artistic afternoon!
Ascent Series Race
To continue this exciting sequence of races, the Breckenridge Recreation Center invites you to participate in the Ascent Series Race #5. On April 15th at 5:30pm, do whatever it takes to climb the mountain. However, you must ski or snowshoe your way back down again. It's a challenge you are sure to enjoy!
Spring Fever
With spring in the air, a full day of celebration definitely seems natural. On April 19th, head out to Main Street in Breckenridge for great activities, delicious spirits and energetic music to get you in the mood for this lively season. It's Spring Fever and you'll find fantastic events for all ages.
Eclectic Exhibit
Lovely jewelry, beautiful pastels and embroidered Polish attire are all on display at THE ART FORUM. Come to Frisco on April 23rd and see some terrific artwork. The combination of so many amazing pieces will inspire you. Open all day, don't miss this fabulous exhibit!
Networking Event
It's hard enough to succeed in the business world. However, if you're trying to make a mark on your own, prosperity can be even more elusive. Fortunately, a free event could help you develop the necessary support network to meet your goals. On April 27th at 5:30pm, get together with other entrepreneurs at the Speed Masterminding for Businesses gathering. Elevate CoSpace in Frisco hosts this series of talks to guide you on the path to accomplishment.
Writing Group
Are you an aspiring author looking for an audience? Then a brand new writing group in Breckenridge is eager to meet you! On April 30th at 5:30pm, bring one of your personal masterpieces to Yellow Arrow Coffee and share with other writers. Or just come by and listen to the works-in-progress of other area authors. Located just below Breckenridge's new library, it's the ideal place to have a productive conversation about local writing. 
Want More April Events?
These are just some of the events you can enjoy in Breckenridge and around Summit County in April. For more ideas, check back with the blog at the beginning of each month. The Realtor team and I always love to share fun activities you can experience throughout the month.
If you're thinking of buying or selling a home in Breckenridge, get in touch. We're ready to help with the process from start to finish. You can start your research by browsing the updated listings on my website at any time, and when you're ready to discuss your options or schedule showings, contact me at any time via email ([email protected]) or on my office line. I look forward to working with you to find your dream home.