Breckenridge Real Estate Market Update
Prepare yourself. There's even more great news for the Breckenridge real estate market. Pending residential sales are up 38 percent throughout Summit County! This is an absolutely amazing ending to the first quarter of 2015. It's also the perfect way to start the new quarter, which could show phenomenal growth compared to recent history.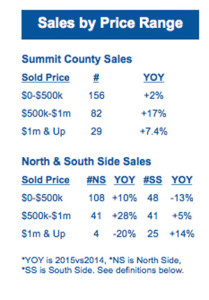 Homes priced between $500,000 and $1 million are the driving force behind these incredible numbers. Properties valued above $1 million are second in pushing these sales figures to soaring heights.
It's interesting to note that luxury sales on the south side of the county are improving. There are enough $1 million sales pending right now to create dramatic growth in this price range for months to come. Unfortunately, the north side of Summit County isn't faring as well. This could change soon since pending sales in the luxury market are in the pipeline.
Another exciting detail to share is that certain properties are now getting multiple offers. Homes that are in great condition, in ideal locations and priced correctly have been receiving lots of attention from buyers. As the spring home-buying season continues to heat up, I'll be curious to see how these multiple offers will impact the Breckenridge market. Don't forget to check back with this blog to get the latest!
Contact Me For More Information
Whenever you're considering whether or not to buy or sell a home, the most recent reports are always important resources. I advise my clients to look for updates regularly so that they are aware of what's happening in the real estate market right now.
Just remember that real estate in Breckenridge can change quickly, and it takes a long view to identify a trend. Home shoppers shouldn't draw general conclusions based on a single market update, and every market has its own rhythm. I strongly urge you to get to know the patterns in your area. Don't hesitate to contact me if you'd like to understand your market better. I'm always happy to provide you with guidance and recommendations.
If you'd like to view homes that are for sale in Breckenridge or throughout Summit County I'd be glad to put together some properties that might suit your needs. Feel free to browse through the updated listings on my website to get started, and when you're ready to talk through your options or schedule showings, contact me at any time via email ([email protected]) or on my office line. I look forward to working with you!