Breckenridge Real Estate Market Update
The good news keeps getting better for the Breckenridge real estate market! Not only are sales up, they're improving in every price range. In a nutshell, this means the Breckenridge real estate market update this month is definitely positive! It's great to see the spring season off to such a great start.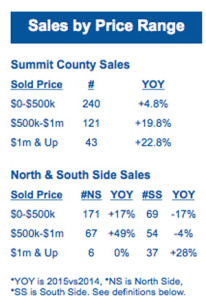 This sales growth isn't happening in every part of Summit County. Frisco, Dillon, Keystone and Silverthorne are leading the way, but other Summit County towns aren't seeing quite that level of growth. We're still early in the year so more areas may enjoy higher sales as the months go by.
Just as we've seen over the last few months, the luxury home market in Summit County continues going strong. Homes selling between $500,000 to $1 million have improved 49 percent on the north side of the county. The south side is experiencing a 28 percent increase in homes that are priced over $1 million. In fact, Keystone set a record for the past few years with a $3.3 million home sale this quarter!
Right now, signs are pointing in a very optimistic direction. Pending activity is ahead of what it was last year. It seems to me that the pending activity will help carry us into the season's peak with some substantial gains. As always, I will be watching the market carefully and I'll let you know how things look. Be sure to check back often!
Contact Us For More Information
Whenever you're weighing your options to buy or sell a home, the most recent market updates are important resources. I advise my clients to look for the latest reports on a regular basis so they are always aware of what's happening in their target market.
Just remember that real estate in Breckenridge can move quickly, and trends can change without much notice. You shouldn't draw conclusions based on a single update, and every market has its own rhythm. I strongly urge you to get to know the patterns in your area, and don't hesitate to contact me if you'd like to understand your market better. I'm always happy to provide you with guidance and recommendations.
You can begin your research by browsing the up-to-date listings on my website, and when you're ready to talk through your options or schedule showings, contact me at any time via email ([email protected]) or on my office line. I look forward to working with you!