Featured Breckenridge, CO Condo for Sale: May 2015
Let your stress melt away while you take in mountain views from this beautiful home in Breckenridge, CO. It's an incredible retreat and has some of the best views Summit County has to offer. I'm excited this condo is for sale and as a featured property for May 2015, I'd be glad to set up a showing.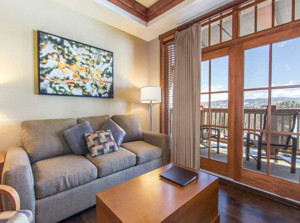 This ski in/ski out condo has just about everything you could ever want in a getaway. As a spacious 1-bedroom, you can use this home to leave your troubles behind for the weekend. Or you might choose it for a romantic destination to enjoy with your special someone.
Whether you live here full time, rent it out or use it for ski weekends, you'll be pleased with all of the finishing touches and furnishings as well as the view. The hardwood floors, granite countertops and stainless steel appliances show the care and investment on the part of the builder. Being a condo, there are also many amenities available to you which include: pools, hot tubs, movie rooms and a fitness center. There's even a spa and a restaurant on site.
You may never need to leave the building once you make yourself comfortable in this home. Most everything you'll ever need is within reach. However, I can't forget to mention that downtown Breckenridge is not far at all. This means you'll have convenient access to all the great shops and superb restaurants that this popular town has to offer.
Best of all, the mountains are just steps away from your front door. You can experience every type of mountain activity possible at any time of year. Talk about relaxation and convenience bundled up in one home! You'll definitely have it all and then some when you choose this jewel of a condo. It's absolutely amazing!
Want More Info?
As you can tell by now, this condo for sale in Breckenridge has a long list of remarkable qualities that make it stand out from the rest. If you'd like to tour this property in person, let me know. I can arrange a visit that works with your schedule.
Also, if you want to view other homes in this community or throughout Summit County, I'm happy to put together some properties that might meet your needs. You're always welcome to begin your research by looking at the up-to-date listings on my website any time as well. When you're ready to discuss your options or prepare for showings, contact me at any time via email ([email protected]) or on my office line. I look forward to working with you to find the home of your dreams.