Featured Breckenridge MLS Listing: May 2015
Looking to rough it without compromising on a luxurious feel? If so, I have the perfect home for you! This 3-bedroom property offers a log cabin experience that doesn't come up short on finishing touches. I'm happy to present this MLS listing as my featured home in May.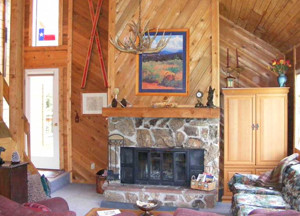 Let me begin by saying this house is perfect for nature lovers and Breckenridge fans alike…it has mountain charm without feeling too much like a hunting cabin.
Check out the tasteful, wood décor. It provides a cozy flair that doesn't take anything away from the stylish room designs. If you spend your time in the kitchen, you'll be impressed with its updated granite slab countertops and stainless steel appliances. The open living room allows for conversation between rooms, and when you walk inside, you will immediately notice how much room you'll have to relax or entertain.
This home has been built to maximize the livable space. Not only do you get three good-sized bedrooms, the residence also provides a finished basement, breakfast nook, family room, library and more! You'll have plenty of space to spread out and designate rooms to become anything you wish.
On top of everything else, this home is located minutes from downtown Breckenridge. That means you can enjoy the privacy and seclusion of living in a beautiful, wooded area and still have access to all the culture Breckenridge has to offer. To me, that's the best of both worlds.
Whether you want a primary home, a vacation getaway or an investment property, you can't go wrong when you purchase this single family house. It's a real jewel you're sure to love for years to come.
Want More Info on this MLS Listing?
As you can tell, this fabulous home in Breckenridge has so many great qualities that should put it on your short list. To understand what makes it stand out, I encourage you to see this home in person. It has features you'll want to appreciate in person.
If you'd like to tour this gorgeous property, get in touch. I can arrange a tour around your schedule.
Also, if you want to see other properties in Breckenridge or throughout Summit County, I'm happy to put together some MLS listings that are similar. You're always welcome to look through the updated listings on my website to get started and when you're ready to discuss your options or prepare for showings, contact me at any time via email ([email protected]) or on my office line. I look forward to working with you to find your perfect home.