Breckenridge Real Estate Tips: Easy Storage Tricks
Whether you just bought your first piece of real estate in Breckenridge or you've been in your home for thirty years, it's a well-known fact that you can never have enough places to store your stuff. Even if you live in a spacious home, you'd be surprised at how easy it is to accumulate more and more belongings over time, and how little closet space you have. There are some great areas to put your possessions without making your home look cluttered.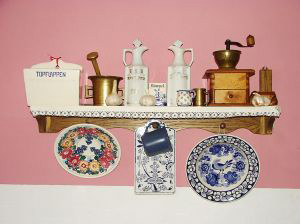 Today I'll share some very useful storage tricks you can use in most homes.
Stair Storage
You may not realize this, but the wall along your staircase is perfect for storage. From built-in shelves to a wine rack, here is an untapped area you should most definitely explore.
If you'd rather have belongings out of sight, it's quite possible to open up this wall and put in a door. Another great idea is to construct drawers into your stairs. Nobody would ever guess you have things in there!
Handy Hooks
Vertical storage could also solve a lot of your overcrowding issues. Consider adding hooks to your walls or putting in some shelves so that you can get your stuff out of the way.
Bed Space
Throwing things under the bed is always an alternative that many people often use. However, why not keep organized with baskets that fit nicely in that area? These sturdy drawers are simple to build on your own so that they match your bed. You can even put wheels on the bottom to make them easy to move around.
Door Hangers
Believe it or not, your door can be a wonderful site for storage. Hooks or shelves may be attached over the top for some extra space. Just be careful not to put heavy items on these units. You don't want to damage your door or the hinges in your quest for cool storage ideas.
Want More Info?
As you can see, there are many creative ways you can store items without making your home feel chaotic. I hope these ideas help you figure out an approach that works well with your personal style.
If you're thinking you've outgrown your current home and are thinking of moving in Breckenridge or around Summit County, get in touch. I can put together some properties that might suit your tastes. You can start your research by looking through the updated listings on my website, and when you're ready to explore your options or prepare for showings, contact me at any time via email ([email protected]) or on my office line. I look forward to working with you!