Breckenridge Realtor News: June Events
June is one of the most beautiful times of the year to enjoy everything Breckenridge has to offer. As a Realtor, I get to hear about some of the fantastic events coming to Summit County this June. Here is a quick snapshot of some of the events you and your family can enjoy throughout the month.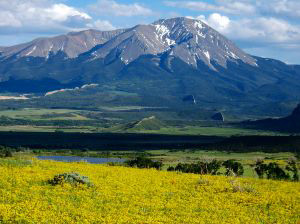 Lunchtime Lecture Series
Interested in local history? Then you don't want to miss these lunchtime lectures at Frisco's Historic Park & Museum. Guest experts will share their knowledge every Wednesday all summer long. Come join community members at noon on June 10th and learn about a local history on your lunch break.
Spartan Race
If obstacle races are your thing, this is the event for you! On June 13th at 7:30am, head to the Breckenridge Ski Resort and experience a genuine Spartan Race firsthand. It's the kind of race that offers something for every type of enthusiast. There are even kid's races for your children to enjoy. Sign up and get ready to be challenged!
Swimming Drop-In
Do you want to push your swimming skills to the next level? Then grab your suit and let the experts give you some great tips to strengthen your abilities! On June 16th at 6:15am, come to the Breckenridge Recreation Center for the U.S. Masters Swimming Drop-In. From beginners to those in training for triathlons, all are welcome for this exceptional swimming advice.
BBQ Challenge
Calling all barbecue connoisseurs! The town of Frisco is hosting barbecue experts from around the country for a festival like no other! June 19th at 11 am, you can watch these masters at work as they compete for serious awards at the BBQ Challenge. Winners will then be eligible to compete in the "American Royal," which is better known as the World Series of barbecue. Taste some incredible concoctions while enjoying other fun activities such as chef demonstrations and racing events.
Running Series
The summer air is perfect for a run! That's why you're bound to enjoy Race #2 of the Summit Trail Running Series. For the 14th year, runners can participate in this scenic race event. On June 24th at 6:00pm, make your way to the Breckenridge Recreation Center and choose between a 4K or 7K course. Then come to the after party to celebrate your victory!
Regatta Fun
Set sail at the Timberline Cruiser Regatta! It's a costume race that's open to sailors of all skill levels. All day on June 27th, you're welcome to come to the Frisco Bay Marina in Frisco and enjoy the fun! Plus, there will be live music from 5:00pm to 7:00pm.
Want More June Events?
These are just a few of the events you can enjoy in Breckenridge and all around Summit County during the month of June. For more fantastic ways to explore everything we have to offer, just check back with our blog. The Breckenridge Realtor team and I always enjoy sharing fun activities and who knows? We might just bump into you there!
If you're looking to buy or sell a home in Breckenridge, you can start your research by looking at the updated listings on my website. When you're ready to discuss your options or schedule showings, contact me at any time via email ([email protected]) or on my office line. I look forward to working with you to find your dream home.