Breckenridge Realtors Tip: August Projects
Although summer is coming to a close, there are still plenty of days left to celebrate the warm weather. August can be a perfect time to accomplish a few important outdoor projects. As a Breckenridge Realtor, I have seen homeowners struggle with this list, so here are a few tips you can use to ensure your property remains in wonderful condition this summer and beyond.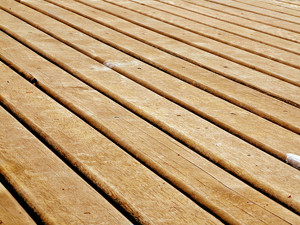 Deck Maintenance
During the summer months, your deck is put through a lot of wear and tear. From outdoor parties to storms, it's logical that there could be some minor issues by the time the season comes to an end.
The good news is that you can protect the surface without extraordinary expense. By sweeping, hosing off debris and checking for loose boards, you'll add new life to your deck. Also, don't forget to give the deck a coat of stain and sealer if you see the finish needs work. Taking the time to maintain your deck during the warm weather will ensure that it is in good shape for the colder temperatures to come.
Air Conditioner Cleaning
Hot temperatures make your air conditioner run on overdrive. However, if you give this unit a little tender loving care, you'd be surprised at its improved performance. That being said, it's essential to change out the filter and clean the condenser fan on a regular basis. It's also a good idea to make sure snow and ice won't get into the unit during the winter. If that's a possibility, it's time to dig out that cover so it's ready to protect the unit this fall and winter.
Complete Final Summer Projects
Before the fall finally arrives, you might have some lingering outdoor projects in the works. Now is the time to bring them to a close. Whether you need to fix a squeaky door hinge or repaint the front porch, don't delay. You'll feel better knowing your home is in great shape just in time for the upcoming season.
Become Your Own Home Expert
Being a homeowner is more than paying a monthly mortgage. Maintenance is an essential aspect of owning any property. For this reason, it's always important to gain new skills in the upkeep of your home.
Therefore, I urge you to open yourself up to learning new things about how to maintain every facet of your home. This month and every month, plan to pick up new knowledge. From plumbing issues to gardening to flooring, there is a lot to learn so that you can be actively involved in your home's ongoing beauty. Start today!
Contact Me
As you can tell, there are a lot of things you can do to make sure your home is in good shape this summer and fall. I hope this blog offers you some useful tips that will help keep your property at its very best throughout the season.
If you're getting ready to put your home on the market and are thinking of buying a new home in Breckenridge or throughout Summit County, I'm happy to put together some properties that might meet your needs. You're always welcome to start your research by looking  through the updated listings on my website, and when you're ready to discuss your options or prepare for showings, contact me at any time via email ([email protected]) or on my office line. I look forward to working with you!