RE/MAX Summit County: August Featured Condo
Whether you're looking for a cozy full-time home in the mountains or a vacation getaway ski condo, the team here at RE/MAX Summit County has you covered, and it's just possible that the perfect condo for you is this month's featured MLS listing! This two-bedroom condo for sale is both comfortable and elegant and I'm proud to feature this MLS listing this month.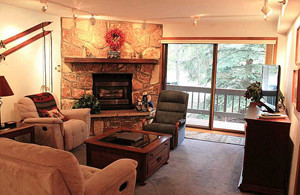 There are so many great aspects to this home that I'm not sure where to begin! The open floor plan is probably a great place to start because it's one of the condo's most appealing qualities. When home shoppers in Breckenridge walk through the condo, the first thing they'll notice is that the space is open and full of light.
In the kitchen there are new granite countertops, tile floors and beautiful appliances. These details make this home come alive. Just by walking around, you can see how these finishing touches give this condo a warmth that will invite you to stay.
I can't forget to mention that downtown Breckenridge is a quick stroll away, and if it's not walking weather, the bus is located just outside your front door. Come winter, you can enjoy underground parking, and the convenience of not having to clear off your car when you head out for the day.
All in all, this condo is the ideal place to call home, or if you would rather use it as a rental unit, that's also a possibility. It's really an excellent value that's worth exploring. Whatever your plans are at this time, consider the many assets of this Breckenridge condo. With its closeness to the mountains and downtown in addition to its evident beauty, you're sure to find this home to be a great investment.
Want More Info?
If you would like to see this Breckenridge condo in person, let me know. I can arrange a showing that works with your schedule.
If you want to view other MLS listings in this community or throughout Summit County, I'm happy to put together some properties that might meet your needs. If you're just starting your research, you're welcome to look through the updated listings on my website. When you're ready to discuss your options or prepare for showings, contact me at any time via email ([email protected]) or on my office line. I look forward to working with you to find the home of your dreams.