Breckenridge Real Estate Market Update
Halloween is around the corner, but the Breckenridge real estate market this month is anything but frightening. In fact, it's delightful! Sales are truly soaring. The average sold price keeps getting better and better. Under contract activity is doing very well. Plus, there are more than 400 pending sales at this time. Quite frankly, this is a market update that deserves to be celebrated!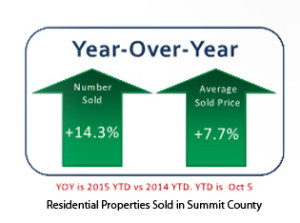 There's even more to say about those 400 pending sales that will show you just how fantastic the Breckenridge market is right now. Those potential future sales only represent 30 percent of what has closed so far in 2015. With three months left in the year, we could see additional homes make their way to pending status. Just think about the amazing possibilities that might be ahead for Breckenridge and Summit County real estate in general!
It's also interesting to note that residential properties that are now under contract have a higher average list price than what sold this year. What's even more inspiring is that if the properties currently listed sell at the same list-to-sales ratio that's been occurring this year, the average sold price in Summit County will grow even more.
Basically, the Breckenridge real estate market is very robust. It's great to see these numbers; it was tough to watch the market downturn nationwide, but now we're seeing a fully recovery and then some. You can be sure I'll continue watching the market closely as always!
Contact Me For More Information
If you're thinking about whether or not to buy or sell a home, the most recent market updates are essential resources. I advise my clients to look at the latest reports on a regular basis so they are aware of what's happening in their neighborhood.
Keep in mind that real estate in Breckenridge can shift quickly. You shouldn't draw conclusions based on a single update. Every market has its own rhythm. For this reason, I strongly urge you to get to know the patterns in your area. Don't hesitate to contact me if you'd like to understand your market better. I'm always happy to provide you with guidance and recommendations.
If you're starting your research and would like to view homes that are for sale in Summit County, I'm happy to put together some properties that might suit your needs. You can browse through the updated listings on my website, and when you're ready to talk through your options or schedule showings, contact me at any time via email ([email protected]) or on my office line. I look forward to working with you!