RE/MAX Summit County, CO: October Featured Condo
Luxurious comfort, gorgeous views and direct access to downtown Breckenridge sum up an amazing property you could be calling home. As a RE/MAX Realtor, I see fantastic condos for sale in Summit County all the time. However, this condo is especially wonderful with its beautiful layout, pristine condition and large outdoor deck. That's why I'm proud to name this residence my featured condo for October.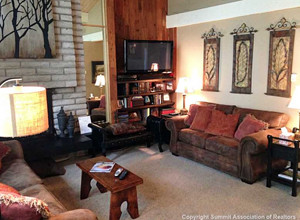 Located on the second floor of a great building just two blocks from Main Street in Breckenridge, this condo has so many lovely qualities. You can tell as soon as you walk in the front door that it is an exceptional place to live. The vaulted ceilings and inlaid brick provide a spacious yet cozy feel.
As you continue into the kitchen and dining area, it won't take you long to appreciate the openness of the layout. Plus, the generous counter space allows for entertaining as well as cooking. You can certainly have some memorable gatherings here!
Moving on to the two bedrooms, you will love the amount of space that never compromises the cozy charm. It's clear that you and your family will sleep with ease in these very appealing rooms.
Let's not forget the incredible view, which you can always enjoy from the deck. There are also hot tubs where you are free to relax after a hectic day.
Finally, as I mentioned earlier, this condo's closeness to downtown Breckenridge means you can enjoy all of the popular shops and restaurants at your leisure. Plus, by living here, you are within walking distance of the Quicksilver chair lift. Therefore, you will be able to experience fun mountain activities and downtown entertainment whenever you wish.
In short, this Summit County, CO condo has everything you would want in a new home. It's a RE/MAX listing that probably won't be around for very much longer…I'd suggest you take a look soon!
Want More Info?
If you would like a tour of this Breckenridge condo, just let me know. I can arrange a visit for you right away. Give me a call at your convenience and I'll set up the perfect time that works around your schedule.
Also, if you want to view other homes in the Breckenridge area or throughout Summit County, I'm happy to put together some properties that might meet your needs. You're always welcome to look through the updated listings on my website any time as well. Then we can talk about the homes that interest you together and take the next steps to complete your purchase.
When you're ready to discuss your options or prepare for showings, contact me at any time via email ([email protected]) or on my office line. I look forward to working with you to find the home of your dreams.