Breckenridge Realtor Pick: October Featured Home
Looking to get away? Want a little seclusion in the mountains without depriving yourself of top amenities? If this describes you, then I have an absolutely perfect property that you should see! There are plenty of great reasons to explain why this cabin is the Breckenridge Realtor Pick for October.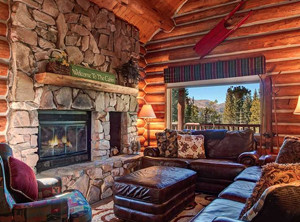 From the gorgeous stone fireplace to the fantastic wood floors and walls to the beautiful scenic views, you'll quickly discover why I've chosen this residence as my featured home. It's one of my favorites!
Although I've already pointed out the breathtaking fireplace, it's really worth repeating. You've just got to see it in person to appreciate its combination of stunning craftsmanship and practicality. The best part is that this grand centerpiece gives the entire living space a warm, welcoming feel.
Another aspect of this cabin that grabs visitors is the open floor plan. It provides plenty of room for entertaining without ever compromising the cozy feel. Just check out the kitchen, which is conveniently located near the living area. This means you can cook a great meal and continue lively conversation with your guests at the same time.
Plus, the kitchen has plenty of counter space that incorporates a long line of stylish stools. Can you say versatile? Make delicious food while conversing with friends and family. You never have to choose between one and the other!
Then there are the snug bedrooms. Each one provides enough room to relax and still feel insulated from cold temperatures.
Speaking of the outdoors, I can't forget to mention that there's a wraparound deck and private hot tub. This fabulous cabin also sits on nearly an acre of land–that alone offers a peaceful retreat from the hustle and bustle of town. Finally, you'll have your very own stream. It runs through the backyard and makes this home stand out even more.
In short, you're sure to be very happy with this dazzling home as a personal getaway. If you're thinking of using it as a short-term rental instead, there is the potential to make $49,000 per year from leasing out this residence. It's a serious moneymaker!
Lastly, whether you want to use this cabin as a vacation retreat or a rental property, one of its most appealing qualities is its closeness to downtown Breckenridge. You'll have access to a wide variety of mountain activities and still be able to head to popular shops and restaurants that have truly distinguished this beloved town.
Want More Info on this Featured Home?
As you can tell, I could go on and on about this fantastic Breckenridge home. It goes without saying that I'm more than happy to show it to you whenever you're available. If you'd like to take a tour of this featured property, Give me a call and I'll set up the best time for you to look at every detail up close.
Also, if you want to view other homes in Breckenridge or throughout Summit County, I'm happy to put together some great properties that might meet your needs. You're always welcome to look through the updated listings on my website any time. When you're ready to discuss your options or prepare for showings, contact me at any time via email ([email protected]) or on my office line. I really look forward to working with you to find the home of your dreams.