Antique Design in Breckenridge
If there's one thing about home ownership, it's that stuff happens. Whether you need to remodel your kitchen, add new tile work to your bathroom or even build a set of bookshelves, owning a home requires problem solving for many different types of projects.
It's understandable to find this aspect of home ownership stressful. Sometimes it's hard to know who to trust when it comes to construction work of any kind. But I recently spoke with a Summit County business owner who can pretty much perform any kind of carpentry or remodeling job you throw his way.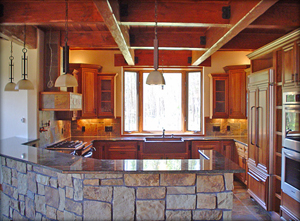 Located right in Breckenridge, Antique Design is equipped to provide all sorts of construction services to new and established homeowners throughout the Summit County area.
Jason Kompf is not just the owner of this company. He also does a lot of the work himself. "I am very hands on, although I work with many talented subcontractors to help create the finished product," he told me. "I am at the job everyday. I'll build a wall, if need be, install tile, install the kitchen cabinets. Being part of the job day in and day out, actually working, allows me to have a greater control over the process and product."
This means if you hire Antique Design to complete a project in your home, there's a good chance Jason could be right there doing the work involved. He's much more than a contractor who just oversees everyone on the job. With Jason around, you're sure to get an expert who cares about providing high quality results.
While Jason enjoys helping anyone who wants to make home improvements, he is particularly fond of customers who have a clear idea of what they want to accomplish on their property. "These are my favorite customers, the ones with vision," Jason explained.
If you're interested in seeing everything Jason has to offer, feel free to visit his Antique Design website. Enjoy the beautiful pictures of his work, too. He's quite talented!
Want to Move to Summit County?
Antique Design is just one of many fabulous small businesses that are here in Summit County. If you'd like additional facts about the local companies you can find in this awesome area, I'm happy to give you whatever information you need.
I'm also available to help you buy or sell a home in Summit County. Whatever your real estate needs happen to be now or in the future, I can help you through the process from beginning to end.
If you have a chance, take a moment to check out the available listings on my website. You might see a property that really interests you!
Feel free to contact me at your convenience. You can send me an email at [email protected] or call my office lines. I look forward to hearing from you!