Pine Ridge in Breckenridge
If you're searching for a beautiful condo in Breckenridge, I know the perfect neighborhood for you. Pine Ridge has lovely condominiums to offer and this community is only a block and a half from Main Street in Breckenridge.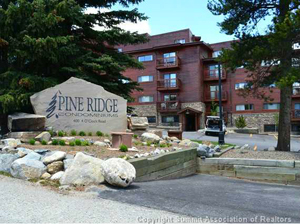 Located along the Four O'Clock Run at Breckenridge Ski Resort, these 1, 2 or 3-bedroom condos are spacious and include amenities such as a heated swimming pool, a hot tub and even a fitness center. You can also have a family picnic on the premises or schedule a corporate meeting in one of the development's well-equipped conference rooms.
The condos themselves are gorgeous with intricate wood work and stone accents to reflect a mountain feel. Also, each condo has tall windows and scenic views so that you're able to take full advantage of the surrounding beauty.
In the winter months, you can enjoy ski in access and you're just steps away from the Snowflake chair lift. You'll be able to take participate in every type of mountain sport imaginable, too.
The national forest is just inches from your door and has many great activities to offer during the summer. Whether you're in the mood for a leisurely walk or you'd prefer some challenging hikes or bike rides, there are lots of fun options to choose from. Also, Breckenridge is home to a 17-hole golf course personally designed by Jack Nicklaus. So you may decide to spend some warm days at this excellent summertime adventure.
Plus, you can always take a short stroll from Pine Ridge to downtown Breckenridge and explore the wide variety of restaurants, shops, galleries and different events. There is definitely something for everyone in the Pine Ridge neighborhood.
Want More Info on Pine Ridge?
As you can tell, Pine Ridge has many wonderful qualities. So if you're interested in checking out this community in person, let me know and I can set up a tour that works with your schedule.
I'm also available to search for other listings that might suit your living needs. In fact, if you'd like to check out a different condo development in the Breckenridge area, feel free to read my recent blog about Saddlewood. That's another fantastic neighborhood I highly recommend.
I'm open to showing you any Summit County home that meets your needs. So don't hesitate to let me know exactly what you're looking for in a property.
Or, if you're looking to sell an existing home, I can also help you through that process from beginning to end.
Contact me at any time either via email at [email protected] or through my office lines. Please know I would love to assist you in all of your real estate needs.