Making Your Kitchen and Bathrooms Shine Without Spending a Fortune
Now that you've decided to put your Summit County home on the market, it's the perfect time to think about prepping your place for showings. You might not know this already, but kitchens and bathrooms are the biggest draw for potential buyers. In fact, many people who want to purchase a new residence immediately check out these rooms before touring any other areas.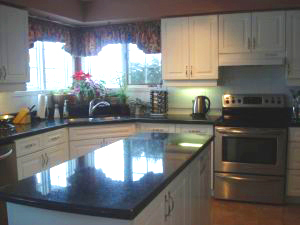 This means it's important to make these parts of your home really look fabulous. You're probably thinking this will cost a lot of money. But that's not true. There are plenty of things you can do for a very reasonable price.
Kitchen Makeovers
Believe it or not, a few very small changes may give your kitchen an entirely different feel. For a modest amount of money, you can replace the faucet set, put in new cabinet door handles and install energy-efficient light fixtures to brighten up the whole room.
If you're able to spend more money, you might consider refacing your cabinet doors. Rather than take out all of the cabinets completely, you can hire a company to refinish them and then add new doors and drawers for a fresher look. This could even be the perfect do-it-yourself project, if you're particularly handy.
Or, if you don't think the doors need to be replaced, you might just give them a new coat of paint in a color that complements the room. This small update can actually give your kitchen a much more inviting look.
Beautiful Bathroom Ideas
Let's turn to the bathroom. There are simple things you can do without a huge financial investment. Think about putting in a new toilet seat or installing an elegant pedestal sink.
If the bathroom floor tiles are old and faded, there's a fix for that, too. Easy-to-apply vinyl tiles or even sheet vinyl can make a wonderful difference. In some instances, you don't even have to pull up the old floor. You may be able to install the new floor right over the old one with no problems at all.
For discolored or stained tubs and showers, consider re-grouting the tile and replacing any of the chipped ones. If you're willing to spend a little extra, you can get a prefabricated tub and shower surround. This is a one-piece unit and you may need to hire a professional to make sure it's installed properly. But, overall, it may still be cheaper than having to re-tile all the walls and refinish an old tub.
Even just replacing your shower curtain will make your bathroom look brighter and cleaner. While you're at it, you might put down a new rug, too. These tiny updates can really give your bathroom a lovely facelift at a modest price. 
Want to Sell Your Summit County Home?
It's natural to worry that any renovations to your Summit County home will cost a lot of money. But as you can see, there are little things you may do that aren't expensive. If you're interested in other tips before putting your home on the market, let me know. I'm ready to assist you through this entire process from beginning to end.
Also, I'm available to help you buy a home in Summit County. Just tell me the type of property you'd like and I can put together a comprehensive list we can go through together. Whatever your real estate needs happen to be now or in the future, I'm ready to be your guide.
You may also have certain questions or concerns that are addressed in my Kelli Sells Blog. So check it out and then feel free to contact me at your convenience.
Send me an email at [email protected] or call my office lines whenever you'd like. I look forward to hearing from you!