September Events in Summit County
Fall is just around the corner and there are a lot of ways to celebrate this gorgeous season in Summit County. So check out the many different events you can explore throughout the month of September. I promise that you won't be disappointed!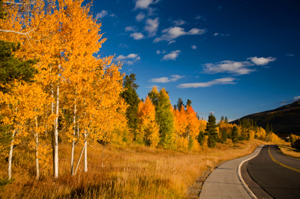 Musicology and Mixology
Get to know the personal lives of some of the most famous composers while enjoying great food and drink at the National Repertory Orchestra's "Musicology and Mixology" special event. (You might be surprised at what you'll learn about these musical geniuses!) It's a one-of-a-kind production on September 7th from 6pm to 9pm. Reserve your seat at the Allaire Timbers Inn in Breckenridge now!
Adult Drop-In Volleyball
If you're in the mood to participate in a team sport and get a lot of exercise in the process, look no further than this event. Choose from volleyball, basketball or even pickle ball! Join the fun for free on September 8th from 6pm to 9pm with a valid Silverthorne Recreation Center pass. Or you can just pay daily admission for this evening of great competition.
Breckenridge Oktoberfest
From September 13th through the 15th, you're invited to experience Breckenridge's 18th annual Oktoberfest celebration. It's a street party like no other with German food, polka music, Bavarian dancers, a keg-tapping ceremony and even a 5k run! More than two dozen food and beverage vendors will also be on hand. So don't miss out on the fun!
The Owl and the Pussycat
Through September 22nd, you're in for a hilarious treat. The Lake Dillon Theatre Company presents its production of "The Owl and the Pussycat" for your enjoyment. This play was a Broadway hit and a film sensation. Now you can see it in Dillon! But please be advised that there are adult themes. So it is not recommended for all audiences.
Breckenridge Saloon Tour
Have you ever wondered about Breckenridge's saloon history? Now you can find out everything you've always wanted to know and then some! On September 28th at 5:00pm, you'll get a guided saloon tour and taste spirits from the Breckenridge Distillery. Reservations are required for this event.
Want to Know More September Events?
These are just some of the fantastic things you can do in Summit County all through September. If you'd like more suggestions, I'd be happy to tell you about other activities you may enjoy.
Also, I can help you with any real estate questions you may have about the Summit County region. Whether you want to list your current house or you're looking to move into a local community, feel free to contact me at your convenience.
I may also be able to answer some of your real estate concerns with my Kelli Sells Blog. So if you have a moment, check it out. I update it frequently to make sure you're always aware of market news and trends in Summit County.
Please know you can send me an email at [email protected] or call my office lines whenever you wish. I look forward to hearing from you!