Breckenridge Realtor Notes: December Activities in Summit County
Both the holidays and ski season are here! It's a great time to see all the wonderful events Summit County has to offer. If you're considering a move to this lovely mountain area, find out the many fun things you and your family can do throughout the month of December.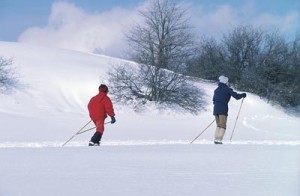 Wild West Tours
Breckenridge has a long and intriguing history. Now you can see what it was like to live here during the gold rush days. Check out the Wild West Tours on December 5th at the Breckenridge Welcome Center. Tickets are $10.00 per person.
The North Face Park & Pipe Open
From December 6th through the 8th, amateurs and pros alike will compete in the North Face Park & Pipe Open. The top athletes could qualify for the U.S. Grand Prix series and ultimately be chosen for the freeskiing team at the Winter Olympics. Check out the fancy footwork on Copper Mountain all weekend long!
Coffee Talk
Attention all Breckenridge residents and those considering a move to this beautiful mountain town, do you have questions or concerns about your community? Then come to Park & Main on December 13th at 8:00am for some Coffee Talk and a candid conversation about town issues. Town Manager Tim Gagen and Mayor John Warner will be on hand to discuss the latest Breckenridge news in an open discussion.
Dew Tour Mountain Championships
The world's best freeski and snowboard athletes are coming to Breckenridge for the Dew Tour Mountain Championships. It's the fifth annual kickoff of this nationwide tour and you can watch these experts at work December 12th through 15th at the Breckenridge Ski Resort. Admission is free!
Oliver!
Get into the spirit of the season with Oliver! The Backstage Theatre in Breckenridge presents this classic story with a unique twist on December 21st at 7:00pm. Reserve your tickets today!
Santa in River Run
You only have a small window left to tell Santa what you want! See Santa in River Run and let him know your wish list. He'll be chatting with children of all ages on the 7th, 14th and 23rd – 25th of December. Check out his full schedule for other dates to meet this beloved gift giver!
Want to Know More November Events?
These are just a few of the winter activities in Summit County this December. If you'd like other suggestions, I'd be happy to tell you about other activities you may enjoy. As a Breckenridge Realtor, I'm always out and about in Summit County.
And of course, if you have questions about Summit County Colorado real estate I can help with that as well. Whether you want to list your current house or you're looking to move into a Summit County community, feel free to contact me at your convenience. Just send me an email at: [email protected] or call my office line. I look forward to hearing from you!