Summit County MLS: January Featured Home
Get ready to be wowed! This magnificent Breckenridge home is one of the most gorgeous properties I represent in Summit County. From lovely log accents to vaulted ceilings to three spectacular fireplaces, this just might be your dream home.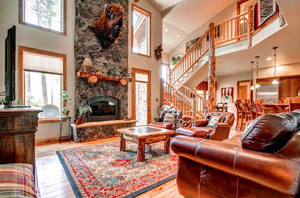 I'm very proud to feature this home–one of Summit County's most viewed MLS listings–as our January featured home.
When it comes to the exterior, it's nothing short of impressive. The yard is charmingly landscaped with both a fountain and a pond…talk about the perfect place to relax and unwind. If you like to throw parties, the lawn is also ideal for entertaining with plenty of room and a nice flow from the house to the yard.
With 4 bedrooms and a study, you will have plenty of room for friends and family. Speaking of space, don't forget to check out this kitchen. Its open design and fantastic counter space let you cook up a storm without having to miss out the conversation.
Finally, I can't overlook the amazing location. Too often spacious, well-appointed homes are well off the beaten path, which can be a drawback for some. Beautifully situated near the base of Peak 8, you can walk to the slopes or take a convenient bus ride from the last stop. Plus, you're not far from downtown Breckenridge. This means you can always experience the unique shops and stylish restaurants along Main Street.
If you prefer to rent this home, you'll also enjoy a wonderful investment. It's a perfect property for larger parties and once renters stay for a ski weekend, they'll want to come back. Whether you're looking for a primary residence, a mountain getaway or a rental property, you'll be very pleased with this fabulous home. It's a real treasure through and through!
Want More Info on this MLS Listing?
As you can tell, this beautiful home in Breckenridge has many qualities that make it a popular property on many of my clients' list of preferred homes. However, it's always best to experience a home like this in person. If you'd like to tour this gorgeous house, just let me know. I can arrange a visit right away. Give me a call and I'll set up the perfect time for you to get a firsthand look.
Also, if you want to see other properties in Breckenridge or surrounding towns, I'm happy to help you set up a custom Summit County MLS search, or I can put together a list of properties for you that might meet your needs. When you're ready to discuss your options or prepare for showings, contact me at any time via email ([email protected]) or on my office line. I look forward to working with you to find your perfect home.