Breckenridge Realtors Pick: March Featured Condo
Convenience and luxury come together perfectly in this gorgeous, two-bedroom condominium. Not only do you get spacious rooms and two full baths, you'll also enjoy the den that can serve as an extra sleeping space. Since this condo is such a unique gem, I'm proud to make it the Breckenridge Realtors Pick for March.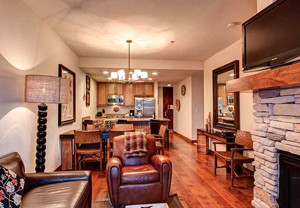 Nestled in the mountains, you can relax in front of scenic views from any room. Plus, you'll have easy access to the Snowflake Lift, which is right at your door. Also, the amenities on this property are amazing! If you ever have an issue, call on the 24-hour front desk. Melt away any stress at the day spa. You can even take advantage of the fitness center, pool and hot tubs. In addition, you'll have assigned heated parking and deeded storage. All this attention to detail is what makes this condo–and the complex overall–a truly luxurious location.
If you're interested in making this unit an investment property, it would certainly be an attractive vacation rental, and of course, this condo can just as easily become your primary home, or a vacation getaway spot. It's one of the most versatile condominiums around and you're sure to be happy with whatever way you decide to use this lovely residence.
Because this condo is in Breckenridge, your guests or tenants will be close to everything the downtown area has to offer. From great restaurants to unique shops, there's no limit to the fun you can find on Main Street. The best part is that you will still be close to nature whenever you want to hike, ski or bike in the mountains. Consider this home the best of both worlds!
For all of these reasons, I strongly believe you will get many years of happiness out of this Breckenridge condo. From an inviting floor plan to fantastic amenities, it won't be hard to make this location feel like home.
Want More Info?
As you can tell, this incredible condo in Breckenridge has a long list of fabulous qualities that make it stand out. If you'd like to tour this property in person, just let me know. I can arrange a visit right away. Give me a call and I'll set up a time that works around your schedule.
Also, if you want to view other homes in this community or throughout Breckenridge, I'm happy to put together some properties that might meet your needs. You're always welcome to look through the updated MLS listings on my website at any time  and when you're ready to discuss your options or prepare for showings, contact me via email ([email protected]) or on my office line. I look forward to working with you to find the home of your dreams.