Best Breckenridge Realtor Advice: Buy the Hot Tub?
As a Breckenridge Realtor, I often get asked about whether or not luxury amenities such as hot tubs will increase a home's worth. It's a good question and it's a topic warrants its own article.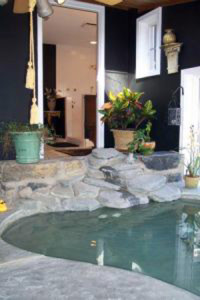 If you're thinking about buying a hot tub, you should be asking yourself two questions:
First: 'Do I want to own a hot tub?'
Second: 'Will a hot tub increase the value of my home, and will I see a return on this investment?'
Today we'll be addressing both questions.
Hot Tubs and Home Values
On average, it costs about $5,000 to put a hot tub into your home. It's a fairly large expense, even if it isn't as much as a backyard swimming pool or a complete kitchen remodel. Still, by getting a hot tub, you are agreeing to accept a significant cost.
Because of the price tag, you may hope to get the money back once you sell your home. Strictly speaking, a hot tub isn't in the same category as renovating your kitchen or building a patio on the back of your home when it comes to home value. There's no clear-cut evidence that a hot tub will improve a home's value, but it actually might give your asking price a healthy nudge. If the future buyer would like a hot tub, that could help your property stand out from the rest.
In general, however, most home improvements don't give owners a full return on the investment when it comes time to sell. That's why if you do decide to get a hot tub, it should be because you and your family will enjoy it. The possibility of an increase in the home's value is best left as a secondary consideration.
Home Desirability
Just because there is no documentary evidence that a hot tub will result in a higher appraisal, that doesn't mean it won't attract potential buyers. Owning a hot tub will give your home extra appeal to some house hunters. After all, hot tubs are easier to maintain than swimming pools and can be covered easily to prevent any accidents, if there are small children around. Therefore, a hot tub is not a risky item for prospective buyers to weigh.
This means that having a hot tub could make your home more desirable than the property next door and a buyer may be willing to pay more because of the hot tub in your house.
Want More Info?
It's natural to wonder if it's wise to get a luxury item such as a hot tub for your property. The good news is that there are many good reasons to support this move, and if you can find the right buyer it may help you sell your home some day. I hope this advice helps you figure out how to proceed concerning this common question.
If you're ready to purchase a new home in Breckenridge or throughout Summit County, and are getting hung up on questions like this one, get in touch. I can help you weigh the pros and cons and I can probably help put some questions to rest.
If you're starting your research, feel free to look through the updated listings on my website at any time and when you're ready to explore your options or prepare for showings, contact me at any time via email ([email protected]) or on my office line. I look forward to working with you!