Breckenridge MLS: July Featured Home
Living in Breckenridge doesn't get any better than this! With its open floor plan, beautiful hardwood floors, granite counter tops and updated bathrooms, you will definitely love settling into this fantastic property. Have a look at the details of this Breckenridge MLS listing and I think you'll agree that the featured home for sale this month is pretty amazing.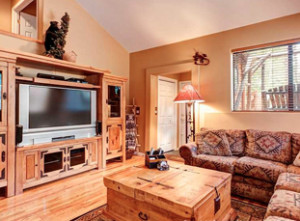 Honestly, I could go on for pages about why I adore this particular home. However, I'll just give you the highlights. First: the location is near the base of Peak 8. This means you have great access to the mountains during any season. Also, you won't be far from downtown Breckenridge and that's always a huge plus.
Second: (and this is a major advantage, too!), the home itself is one of the most gorgeous properties that Breckenridge has to offer. From the moment you walk inside the front door, you'll be greeted with such incredible warmth. I love how the light comes in through the windows, which provide scenic views of the mountainside.
Another nice feature is that the master bedroom only a half level up from the main area. It's a unique floor plan that allows you to save the cozy feeling of home without sacrificing space. Both of the other bedrooms are on the upper level ensuring a little space and all the privacy you'd expect.
The exterior of this property is just as appealing. You can entertain on your large deck and even invite several guests to experience your 6-person hot tub. As I stated earlier, mountain life doesn't get any better than residing in this fabulous, Breckenridge home. It's definitely a unique jewel that you should check out right away!
Want More Info on this MLS Listing?
There is so much to share about this wonderful Breckenridge home and I'm happy to show it to you when you're available. If you'd like to tour this gorgeous property, give me a call and I'll set up the ideal time for you to look at every detail up close.
Also, if you want to see other properties in Breckenridge or throughout Summit County, I'm happy to put together a selection of MLS listings that might meet your needs. You're always welcome to look through the updated listings on my website any time as well and when you're ready to discuss your options or prepare for showings, contact me at any time via email ([email protected]) or on my office line. I look forward to working with you to find your perfect home.