Summit County MLS: July Featured Condo
It's often a real challenge to find a beautiful condo that is unique, appealing and can feel like home, even if it's just your home during ski weekends. But I can say this particular Summit County MLS listing meets all of those needs. Unlike most condos you might tour which can easily blend together after a while, this home is really special.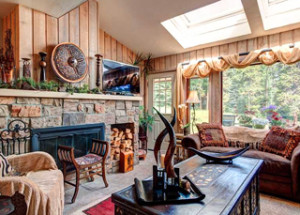 The remodeled interior, lovely furnishings, gorgeous stone fireplace and amazing spaciousness definitely set this condo apart from the rest. For these reasons (among others), I am delighted to choose this property as my July featured condo for sale.
In addition to all of the great indoor features this condo offers, it also has a great location. Situated right on the ski run and next to the creek, you can enjoy the outdoors or stroll into downtown Breckenridge at any time you wish. You just can't go wrong with such an ideal location!
Plus, this condo is equipped with 2 parking spots and a deck that's perfect for relaxing on a summer afternoon. A community pool and hot tubs are at your disposal, too. You'll have great entertainment and relaxation options just a few steps from your front door!
As you can tell, this condo offers an excellent total package and is listed at a great price for homes of this size. I feel this home stands out on so many levels…it's truly an original and you'll understand the minute you walk inside. As I always say, you don't have to take my word for it…the best way to decide if a home is right for you is to tour it yourself!
Want More Info?
If you would like to see this property up close and personal, let me know. I can arrange a visit for you right away. Just give me a call and I'll set up a time that works around your schedule.
Also, if you have a short list of other MLS listings in Breckenridge or throughout Summit County that you'd like to see, let me know. I'm happy to suggest similar properties or arrange a tour of some of the homes you'd like to see.
If you're just beginning your home search, you're welcome to look through the updated listings on my website and when you're ready to discuss your options or prepare for showings, contact me at any time via email ([email protected]) or on my office line. I look forward to working with you to find the home of your dreams.