Summit County Realtors Tip: July Projects
July is one of the most beautiful months of the year in Summit County. It's also the perfect time to get indoor and outdoor home improvement projects done before the fall. To help you get started, here are some tips from Summit County Realtors who've been helping homeowners protect their property value for years.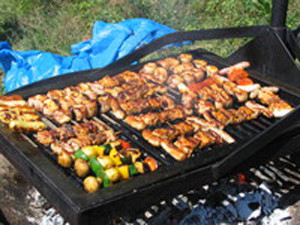 Grill Advice
In July, you can always pull out the grill at a moment's notice for a fun backyard barbecue. However, to ensure your grill is ready whenever you wish, it's essential that you keep your 'outdoor kitchen' clean.
This means taking out the grates and soaking them in warm, soapy water. A stiff bristle brush is also ideal for scrubbing off tough residue. As soon as the parts are all dry, put your grill back together so you can celebrate another summer evening soon.
Screen Repairs
Screens are wonderful for letting you appreciate warm breezes without allowing insects and allergens into your home. However, when a screen is ripped or torn, it can't serve its summertime purpose. That's why July is a great month for inspecting and fixing screens on your windows.
If you find any areas that need to be maintenance, just remove the screen. Then stretch some screening over the metal frame and cut it to fit the size of the hole. When that step is completed, simply put a new spline into the screen using a rolling tool. Afterwards, trim the excess material and return the screen to the window. In a matter of minutes, your screen is as good as new!
Refrigerator Maintenance
It's easy to overlook the cleanliness of your refrigerator. When your fridge is not at its best, your health and your electricity bill could suffer. For this reason, take an afternoon to clean out old food and wipe down the walls and shelves.
When you finish the interior, turn to the exterior by unplugging the refrigerator and vacuuming all of its coils. By giving your fridge a comprehensive cleaning, it won't have to work as hard to keep your food cool and fresh. Plus, your refrigerator will become much more energy-efficient, which can save you a lot of money in the long run.
Contact Me
As you can tell, it's always a good idea to maintain your home. Hopefully these suggestions are a good starting point as you work to keep your home cool, comfortable and livable.
If you're thinking of listing your home this summer, keeping up with maintenance is that much more important. Feel free to research listings and pricing using the updated listings on my website, and if you have questions about buying or selling a home in Summit County, feel free to get in touch.
You can contact me at any time via email ([email protected]) or on my office line. I look forward to working with you!