Breckenridge Real Estate Market Update
Continuing our track record of strong market updates, I am happy to report yet another positive month in Breckenridge real estate. Sales are occurring on a frequent basis and prices keep rising. This is a very promising climate that deserves to be celebrated!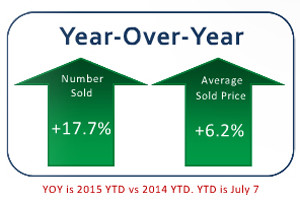 In terms of overall numbers, as of June 30th, inventory is down 26 percent. At the same time, sales are up around 19 percent. Plus, pending sales have grown by about 16 percent. Once again, these numbers prove that Breckenridge is currently a healthy market.
It should be noted, however, that each side of the county has different sales figures. Currently, the north side is enjoying a 33 percent growth. The south side's sales are up as well, though not as high as the north's. Still, the south side is experiencing a 3.8 percent rise in sales. This means that both sides are flourishing and that's wonderful to see!
In addition to the great news for this month, I'd also like to share that 30 percent of our pending sales is new construction throughout Summit County. Furthermore, the average price of that 30 percent is a little over $1 million.
As you can tell, the Breckenridge market is in good shape all around. I'm excited to watch this very encouraging trend. Keep checking back with our blog and I'll make sure to update you on any changes that may occur in the coming weeks.
Contact Me For More Information
Whenever you're debating whether or not to buy or sell a home, the most recent market updates are important resources. I advise my clients to look for the latest reports on a regular basis so they are always aware of what's happening in their market.
Just remember that real estate in Breckenridge can shift quickly and you shouldn't draw conclusions based on a single update. Every market has its own rhythm. For this reason, I strongly urge you to get to know the patterns in your area. Don't hesitate to contact me if you'd like to understand your market better. I'm always happy to provide you with guidance and recommendations.
If you're ready to view homes for sale in Summit County, let me know. I'm happy to put together some properties that might suit your needs, or you can start your research by browsing the updated listings on my website as well. Then we can talk about the homes that interest you and schedule showings. Contact me at any time via email ([email protected]) or on my office line. I look forward to working with you!