Breckenridge Realtor Pick: September Featured Home
Whether you're looking for a primary residence, a vacation getaway or a rental property, this Breckenridge home will definitely suit your needs quite well. As a Realtor, I love to see all of the angles a home offers. This gorgeous place has so much versatility that I am really proud to showcase it as my featured home for September.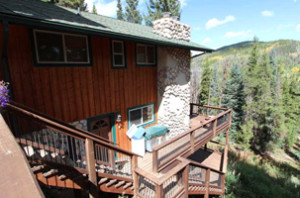 Currently, this home is a very lucrative as rental unit. In fact, there are three separate apartments in the building. Because the property is so successful as rentals, you can expect to earn $63,600 a year in rental income. That's a huge profit on a home that has already been renovated. This means you can simply take over the leases without having to invest in any remodeling costs.
There current owners added new tile, wood floors and granite giving the house a beautiful update. Once you step inside, you'll immediately notice the loveliness of these touches.
If you would like to take over this home as your primary residence once the leases expire, that is one of several options at your disposal. This home has plenty of reasons to buy, and the location of this home is very attractive as well…just a mile to the downtown area. Plus, you can't beat the mountain views. They truly are breathtaking! The hiking trails are just steps away from your front door, too.
If you're looking for a property with potential, you can't go wrong with this one. It's low-maintenance and a real money-maker at the same time. On top of it all, this home has the potential to become your private residence, if that is the direction you'd like to take in the future. Let me help you start planning today!
Want More Info on this Featured Home?
There is so much to share about this wonderful Breckenridge home and I'm more than happy to show it to you whenever you're available. If you wish to take a tour of this featured home, get in touch and I'll set up a viewing. If you want to view other homes in Breckenridge or throughout Summit County, I'm happy to put together some great properties that might meet your needs. You're always welcome to start your research with the listings on my website and when you're ready to discuss your options or prepare for showings, contact me at any time via email ([email protected]) or on my office line. I really look forward to working with you to find the home of your dreams.