RE/MAX Summit County: September Featured Condo
Stay cozy without sacrificing comfort in this gorgeous one-bedroom condo. It's the perfect place to relax, unwind and feel at peace in natural surroundings. Plus, you're only steps away from downtown Breckenridge's most popular hangouts.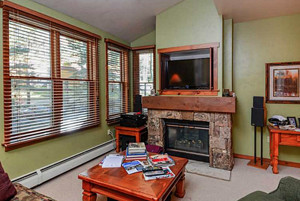 I'm excited to call this property my featured condo for September. This Summit County home has so much to offer I have a feeling it won't last long on the market!
As the colder temperatures approach, this snug condo will be the perfect getaway from the chilly weather. Once you step inside, you'll immediately feel the warmth with its neutral tones, wood-accented window treatments and lovely fireplace.
The kitchen also has a comforting feel, providing plenty of counter space and the latest designs in today's appliances. There's even an eating space that looks out on rugged mountain views. Think how tranquil it will be to take in the mountain there with your morning coffee and plan the day ahead.
Like the rest of this condo, the bedroom provides enough room to be comfortable and great features to help you unwind. You'll make it your own in no time with the ample space and welcoming feel.
On top of the many other terrific touches, you can enjoy some fantastic amenities. These include a heated outdoor pool, hot tubs, a fitness room and a one-car garage.
With numerous details that make this condo a catch, I don't expect it to remain on the market much longer. If you're in the market for a condo in Breckenridge, I urge you to check out this home as soon as possible. It could easily be gone soon!
Want More Info?
If you would like to take a tour of this Breckenridge condo, let me know. I can arrange a visit for you right away. Just give me a call when you're ready and I'll set up the perfect time that works with your schedule.
Also, if you want to view other MLS listings in this community or throughout Summit County, I'm happy to put together some properties that might meet your needs. You're always welcome to look through the updated listings on my website any time as well. Then we can talk about the homes that interest you and start creating a short list.
When you're ready to discuss your options or prepare for showings, contact me at any time via email ([email protected]) or on my office line. I look forward to working with you to find the home of your dreams.