Real Estate in Breckenridge CO: Market Update
The record of great months for Breckenridge, CO real estate keeps growing! I'm happy to report that sales are still quite impressive. In fact, the numbers are up by 15 percent. Under contract activity is phenomenal as well. Those figures are 31 percent higher than this time last year. That's very good news for Summit County!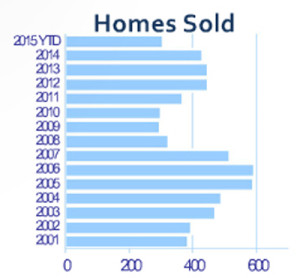 In terms of prices, there's definitely cause to celebrate, too. For most every town in Summit County, home prices have risen. This means the values are growing and I just love to hear that because this increase really helps all of our communities.
As you can expect at this point, inventory is down right now. With so much activity around the real estate in Breckenridge, it's logical that there are fewer homes available on the market. To be specific, the current amount of residential properties has dropped by 28 percent.
When it comes to the luxury market, sales are booming, just as they have been over the past few months. The latest figures show that sales in this price bracket are up 22 percent. To break that number down even further, 80 percent of those sales are on the south side of the county and 20 percent on the north side. Also, the average sales price of luxury homes in this market has increased by 6.2 percent.
It's so nice to see home values moving in such a positive direction. The Breckenridge market has certainly become more robust. We're on a delightful roll and I have a great feeling this momentum is only going to get better in the coming months. You can bet I'll be watching things closely, and I'll be ready to report any changes when they happen.
Feel free to check back with my blog to get the latest market information. I'll be sure to keep you updated!
Contact Me For More Information
Whenever you're debating whether or not to buy or sell a home, the most recent market updates are important resources. I advise my clients to look for the latest reports on a regular basis so they are always aware of what's happening in their market.
Just remember that real estate in Breckenridge can shift quickly. That's why you shouldn't draw conclusions based on a single update. Every market has its own rhythm and I strongly urge you to get to know the patterns in your area. Don't hesitate to contact me if you'd like to understand your market better. I'm always happy to provide you with guidance and recommendations.
In addition, if you'd like to view homes for sale in Summit County, I'm happy to put together some properties that might suit your needs. Feel free to browse through the updated listings on my website as well. When you have a list of favorites we can start visiting properties.
If you're ready to put your own home on the market, I can help you in that process, too. Give me a call so that we can get started right away.
Contact me at any time via email ([email protected]) or on my office line. I look forward to working with you!